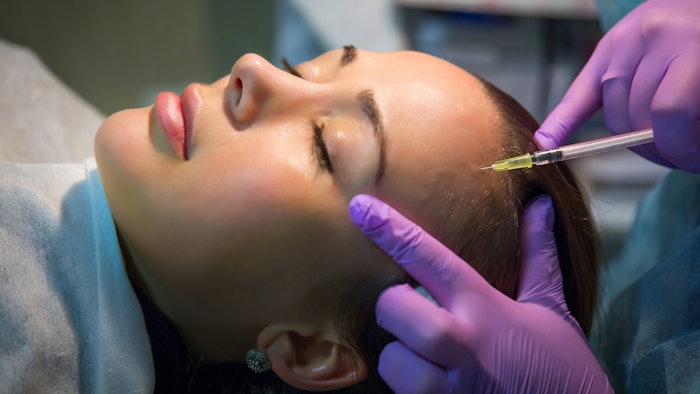 A single session of microbotox injection effectively reduced pore sizes and delivered high rates of patient satisfaction.
For their study, published in the Journal of Cosmetic Dermatology (May 2021),  Yasmina Ahmed El Attar, MD, and Ahmad Nofal, MD, treated 35 patients with wide facial pores. The treatments took place between January 2019 and March 2020.
They prepared a standard 100-unit bottle of Botox Cosmetic with 2.5 ml saline. Then added an additional, similar volume of saline to prepare the diluted microbotox in a 1 ml syringe (1:1 dilution). After dilution, the 1 ml syringe of microbotox solution contained 20 units of botulinum toxin A per ml of solution, which was used to deliver 100 injections, delivered 1 cm apart using a 30G needle, raising a tiny blanched bleb at each point.
Two blinded dermatologists rated improvement of pore size (using 0‐4 scale). Outcomes were confirmed by dermoscopic examination. Patient satisfaction was measured using the five point Likert satisfaction scale.
After a single treatment session, the total average of improvement was 87.2%. The dermatologist-evaluator's average improvement score of pore size was 3.7 (0‐4 scale). Average patient satisfaction after one year was 4.7. Dermoscopic evaluation confirmed the evaluator and patient-reported reduction in the size and number of pores. There were no serious adverse events or long‐term side effects.
The authors noted that, in addition to reducing facial pore size, improvement of skin texture and oiliness was also observed.