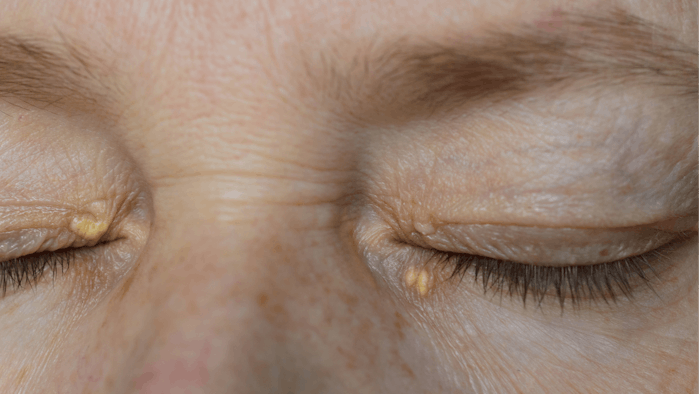 Researchers in Brazil are sharing a case study that may shed light on a new, previously unknown complication of hyaluronic filler treatments: xanthelasma. The flat or slightly elevated yellowish growths, which typically occur on or around the eyelids, are most often seen in patients with high lipid levels.
Related: Late Onset Edema Following HA Filler Injection
In the case study reported in the Journal of Cosmetic Dermatology (September 2021), Vivian Simões Pires MD, et al, discuss the case of a 38-year-old Caucasian woman with no history of hyperlipidemia who underwent hyaluronic acid filling in the periorbital area and presented 12 months after treatment with two symmetrically yellowish plaque lesions on the lower eyelids, with no edema or nodules.
Related: Filler Migration to the Orbit
Histological analysis showed unspecific findings with rare histiocytes present in the papillary dermis. The patient was treated with hyaluronidase infiltration in both lower eyelid areas in an attempt to minimize the appearance of the lesions, with a satisfactory response.
The authors reported that this xanthelasma-like reaction is "probably a new adverse effect related to injectable fillers and it is important to be alert to this possibility."