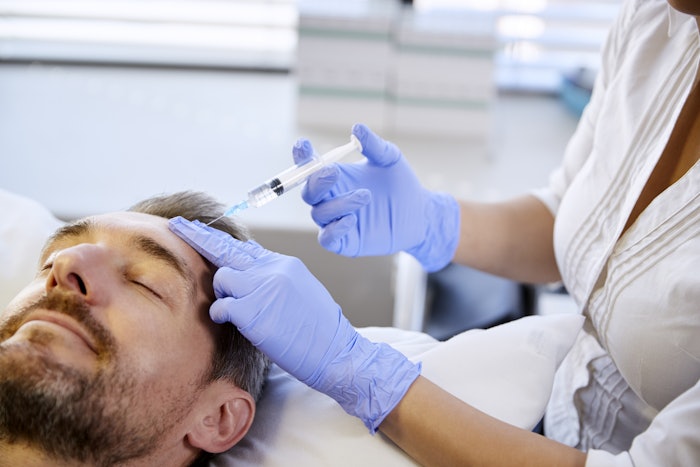 Botulinum toxin injections are the most commonly performed minimally invasive aesthetic procedure in men, yet guidelines on dosing for male patients is sorely lacking, say researchers Rajat Kandhar, MBBS, MSc, MD, et al.
Related: [Filler Safety] Rethinking Glabella Injection Points
For their study, "Onabotulinumtoxin Type A Dosage for Upper Face Expression Lines in Males: A Systematic Review of Current Recommendations" (Aesthetic Surgery Journal, December 2021), they searched PubMed (MEDLINE), Embase, the Cochrane database and Google Scholar with a date range of 2002 to 2019. 
Related: [Botulinum Toxin] Effect of Needle Size on Skin Penetration Force
Changing trends and gender variation was noted in each of the studies, with six of the 11 studies suggesting the need to alter dosing in male patients, yet no recommendations on dosage were provided. The authors concluded that dearth of data and guidelines combined with growing demand highlights an urgent need for up-to-date recommendations for the use of onabotluinumtoxin type A in upper face expression lines in male patients.