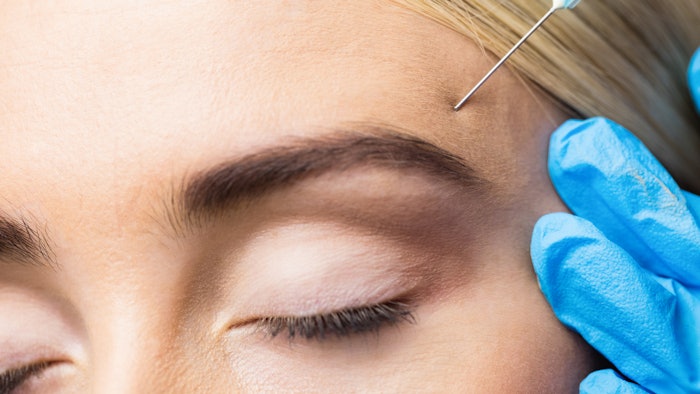 A study published in Plastic and Reconstructive Surgery (October 26, 2021) compared the skin penetration force of higher and lower gauge syringes to determine the cost efficacy of varying needle sizes.
Related: Achieving Longer-lasting Botulinum Toxin Injections
For "Effect of Needle Sizes 30 G and 32 G on Skin Penetration Force in Cadavers: Implications for Pain Perception and Needle Change during Botulinum Toxin Injections," Tanvaa Tansatit, MD, MSc, et al, connected 30-G and 32-G needles (n = 20 each) to a digital force gauge (DFG5 Bravo; Tech Quality Co.) to compare the peak penetration forces. They performed 1,200 penetrations at a 45-degree angle on the whole forehead and crow's feet regions of a fresh cadaver. The distance between each penetration point was 1 mm.
Related: Navigating Off-label Indications for Botulinum Toxins
The authors noted that small needles typically cause less pain during cosmetic botulinum toxin injections, but a 30-G needle costs significantly more than a 32-G needle. However, physicians typically discard the needles during treatment as they become dulled by continued injections. Therefore, they posited, the difference in cost may be less pronounced based on number of injections per syringe.
Related: Tips To Reduce the Risk of Eyelid Ptosis
They found that the 32-G needles required 75% of the force required by 30-G needles (0.15 ± 0.03 N versus 0.20 ± 0.06 N). Similarly, the 32-G needle required a skin penetration force of 72% compared with the 30-G needle at the thirtieth penetration. In addition, there was a rise in the skin penetration forces of both needles at each use.
At the fifth injection, the skin penetration forces of the 30-G needles showed a significant increase of 30% compared to the first injection, whereas the skin penetration force of 32-G needles was significant increased by 33% at the eleventh penetration compared with first penetration. There was no statistically significant difference between the forehead and crow's feet regions.
They concluded that, although the 32-G needle is more expensive, it is suitable for multiple injections as it is stronger and more long-lasting than the 30-G needle. "In addition, the 30-G needle was discarded after the fourth penetration, but the 32-G needle could be used until the twentieth penetration at the skin penetration force of 0.24 N," they wrote.