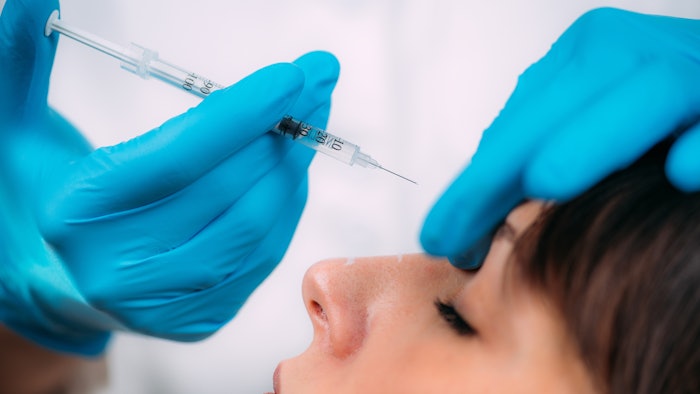 Injecting dermal fillers in the glabella carries a high risk of intravascular injection and embolism. To help reduce these risks, researchers Hyun Jin Park, et al, used ultrasonography image scanning to track the course and location of vessels in the area and then classified them according to their proximity to the forehead midline—a common injection point. They scanned four points on the forehead midline: trichion (P1), metopion (P2), halfway point between metopion and glabella (P3) and glabella (P4).
Related: Vertical Glabellar Line Fillers and the Supratrochlear and Supraorbital Arteries
Their findings, published in the Aesthetic Surgery Journal (October 2021), showed that vessels coursing within 0.75 cm of either side of the forehead midline were found in 34% to 50% of individuals. Arteries running near the forehead midline tended to be dominant on the right side of the forehead except in the P4 area. About half of the individuals had vessels in the P4 area, of which 96.7% were veins.
Related: HA Filler-Induced Xanthelasma: A New Complication To Consider
The authors noted that the presence of superficial vessels running close to the midline of the forehead can explain the higher incidence of vascular complications during conventional aesthetic procedures. "To ensure safety, the cannula entry point or needle puncture point for glabella augmentation should be reconsidered," they concluded.