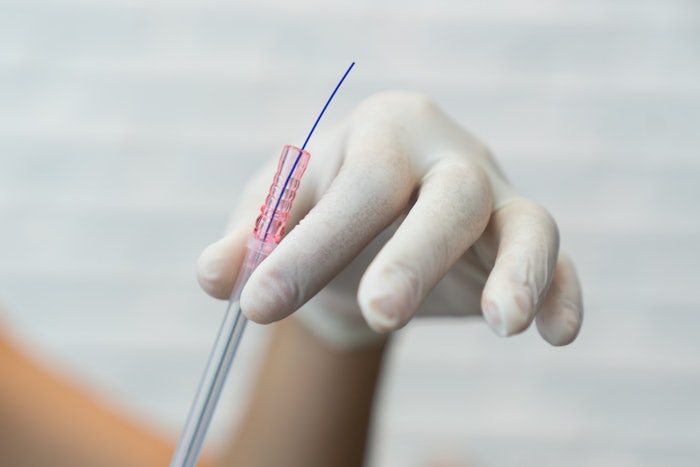 Thread lifts have become increasingly popular procedures for patients seeking less invasive options for facial lifting. Since their introduction in 2010, absorbable polydioxanone (PDO) threads have become the leading choice for most practices. Today, they are joined by polycaprolactone (PCL), but which thread type offers the greatest affect in collagen formation and tissue response? This is the question researchers set out to answer with an animal study, published in the Journal of Cosmetic Dermatology (December 2021). 
Related: Crisscross PDO Thread Pattern Improves Longevity
Young In Ha, MD, Jun Hyun Kim, MD, and Eun Soo Park, MD, PhD, compared four different types of threads (single-stranded, four-stranded, 12-stranded and barbed Cog thread) made of either PDO or PCL. The threads were implanted in rats, and the investigators assessed histological changes in the thread and neighboring tissue at two-week intervals. They also conducted polymerase chain reaction (PCR) testing for genes related to fibroblast proliferation including type 1α1 collagen, type 3α1 collagen and transforming growth factor beta 1 (TGF-β1). 
Related: Barbed PDO Sutures Highly Effective for Aesthetic Corrections
There was an increase in collagen formation in all types of PDO and PCL groups during the first 12 weeks, and this decreased after 12 weeks. Collagen formation decreased significantly later in the PCL thread group than the PDO group. The PCL thread remained in the tissue for over a year, while PDO required around 24 weeks for absorption-degradation.
They found that a larger surface area between the thread and the tissue induced a greater response in the tissue, resulting in an increase in inflammatory cells, myofibroblasts and fibroblasts. The results showed a similar pattern of increase in type 1α1 collagen and TGF-β in the PDO thread group, suggesting that the TGF-β signal transduction leads to fibroblast proliferation that stimulates collagen formation and tissue re-formation. 
Related: PCL Threads Show Significant Skin Rejuvenation and Wrinkle Reduction
In looking at all of the data, the research team concluded that PCL threads induce more collagen formation and tissue responses, which leads to more tissue tightening effects. Morphological comparison of threads showed not only an increase in surface area between thread and tissue but also a multi-strand increase tissue response, which in turn increases tissue maintenance effects.