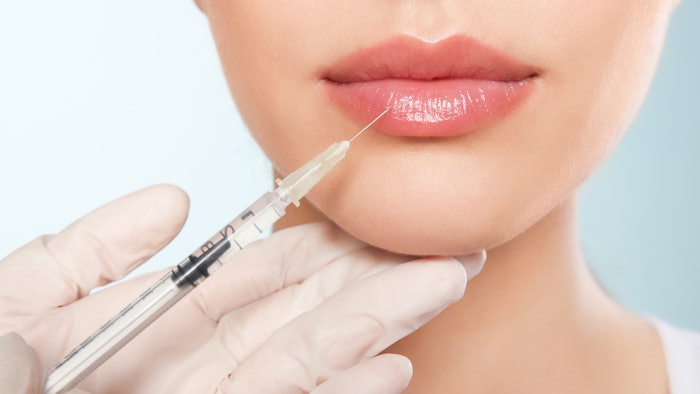 A double-blind, randomized, controlled, multicenter study of a novel hyaluronic acid (HA) gel with 0.3% lidocaine (Revanesse Lips+, Prollenium Medical Technologies) found that the filler is non-inferior to comparator Restylane Silk (Galderma Laboratories), also an HA gel filler with 0.3% lidocaine.
Related: Restylane Kysse vs. Juvederm Volbella XC for Lip Augmentation
For their study, "Safety and Effectiveness of a Novel Hyaluronic Acid Gel for Lip Augmentation," which was published in the Journal of Drugs in Dermatology (January 2022), Jeffery Adelglass, MD, et al, enrolled 158 patients with an overall score of very thin (n = 0) or thin (n = 1) on a 5-point Lip Fullness Grading Scale (LFGS).
Related: Researchers Map Location of the Labial Arteries for Safer Lip Augmentation
Patients were randomized 1:1 to treatment with either the test device (Revanesse Lips+) or comparator (Restylane Silk). Efficacy was assessed periodically over six months on a per protocol (PP) population (definitive) and a modified intent-to-treat (mITT) population (supportive). The treating investigator was unblinded and the evaluating investigator was blinded to treatments administered.
Related: Researcher Proposes New Lip Injection Technique
In the PP population, the mean change from baseline in LFGS score was 1.52 for the test device and 1.53 for the comparator. In both the PP and mITT populations, the lower limits, -0.33 and -0.26, were higher than the prespecified -0.50, indicating that the test device was non-inferior to comparator.
Related: Achieving the Correct Proportions with HA Fillers for Lip Enhancement
Both treatment groups had similar adverse event profiles, and 93% percent of patients treated with the test device considered themselves improved, much improved or very much improved at day 168 compared to 82% of those treated with comparator. Investigator improvement ratings were 100% and 76%, respectively.