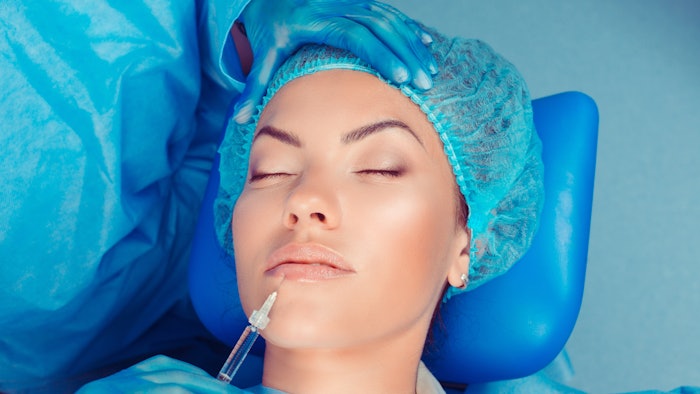 Restylane Kysse (Galderma, HARK) was recently approved in the U.S. for lip augmentation and correction of upper perioral rhytids, so researchers conducted a randomized, controlled, evaluator-blinded study to demonstrate the noninferiority of HARK to Juvéderm Volbella XC (Allergan, HAJV). The findings of this study were published in Dermatologic Surgery (April 2021).
Related: Achieving Correct Proportions with HA Filler-based Lip Enhancement
Subjects were randomized (2:1) to receive treatment with either HARK or HAJV (control) with optional touch-ups at week 4. The primary endpoint of the study was change in lip fullness at week 8. Secondary endpoints included lip fullness, wrinkle severity, aesthetic improvement, subject satisfaction, adverse events and local tolerability (subject to diary entries) throughout the 48-week study duration. A total of 234 subjects completed the study and follow-up.
Related: Risks of Same Day Botulinum Toxin and Nonablative Laser Treatment
HARK proved to be noninferior to the control in lip fullness augmentation at week 8. Lip fullness and wrinkle severity improvement persisted at week 48, and was accompanied by high aesthetic improvement and subject satisfaction scores. The mean volume of HARK injected was approximately 20% lower than the control. Treatment-related adverse events and symptoms were deemed predominately mild and transient.