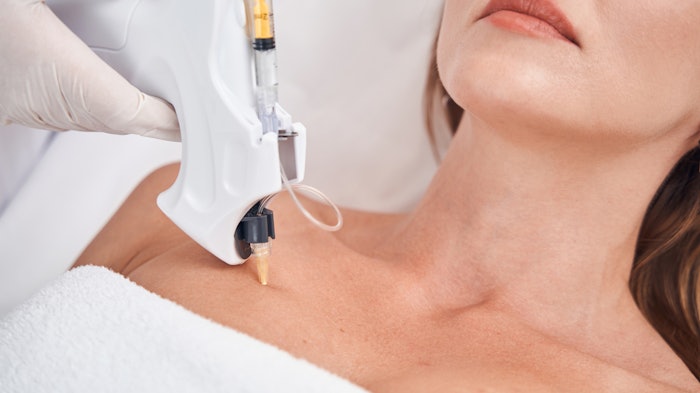 Gabriela Casabona, MD, of the Ocean Clinic Marbella, Marbella, Spain, was able to achieve two-point improvement in severe skin laxity of the chest and buttocks using a combination of dilute calcium hydroxylapatite dermal filler (CaHA, Radiesse, Merz Aesthetics) and microfocused ultrasound with visualization (MFU-V, Ultherapy). Her study, published in the Journal of Drugs in Dermatology (January 2022) adds to the growing body of research supporting the combination therapy for skin laxity.
Related: RF Fractional Microneedling Improves Skin Laxity and Wrinkles
She treated four patients total (two with Grade 3 chest laxity on the Décolleté Wrinkling Assessment scale and two with Grade 3 scores on the Gluteus Laxity Scale). All four patients' skin laxity improved by two grade points after two to three treatment sessions of dilute CaHA and MFU-V. 
Related: Poly-l-lactic Acid is Safe and Effective for Treating Upper Knee Skin Laxity
She notes that when treating patients with severe skin laxity, practitioners should customize the number and depth of MFU-V treatment lines and the amount of CaHA needed when making a treatment plan for these patients. Similarly, it is important to consider body mass index (BMI) when treating body areas such as the gluteus and the potential need for volume correction.