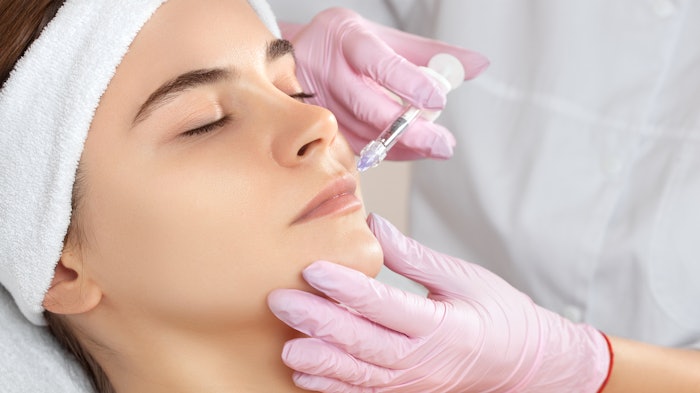 A review of postmarket data for delayed adverse events (AEs) of the most recent (2016-2020) FDA-approved hyaluronic acid fillers, published in the February 2022 issue of Dermatologic Surgery, found that certain fillers did have higher rates of delayed AEs with nodules being the most common, although rare, complication.
Related: Best Practices When Using HA Fillers for Tear Trough Deformities
For the open access paper, Joel L. Cohen, MD, et al, reviewed data available in the Manufacturer and User Facility Device Experience (MAUDE) FDA database from January 2016 to January 2021. The fillers reviewed included: Juvederm Volbella (HAVOB; Allergan), Restylane Refyne (HAREF; Galderma), and Restylane Defyne (HADEF; Galderma), all approved in 2016; Juvederm Vollure (HAVLR; Allergan), Teosyal RHA2/3/4 (HARH2/3/4; Teoxane), and Revanesse Versa (HAVER; Prollenium Medical Technologies), approved in 2017; and Restylane Kysse (HAKYS; Galderma).
Related: HA Fillers Show Variations in Inflammatory Reponse and Integration
Of 585 MAUDE reports, 195 (33.3%) involved delayed AEs. Of those, 71.8% were nodules (42.1% inflammatory and 29.7% noninflammatory), 21.5% hypersensitivity and 6.7% granulomas. The combined total events of interest, ordered by frequency reported, were HAVLR (74.4%), HAVOB (12.3%), HADEF (5.1%), HARH4 (3.6%), HAREF (2.6%) and HARH2 (2.1%), with no reports for HARH3, HAVER and HAKYS. 
In terms of treatment areas, nodules occurred most often in the lips.
Related: Researchers Map Location of Labial Arteries for Safer Lip Augmentation
The authors noted that a likely explanation for the lack of reported delayed AEs for HARH3, HAVER and HAKYS is that these products have not been available in the U.S. for as long as the other fillers. Similarly, they point out that the number of events of interest for each HA filler is likely influenced by the frequency of use and the length of time available.