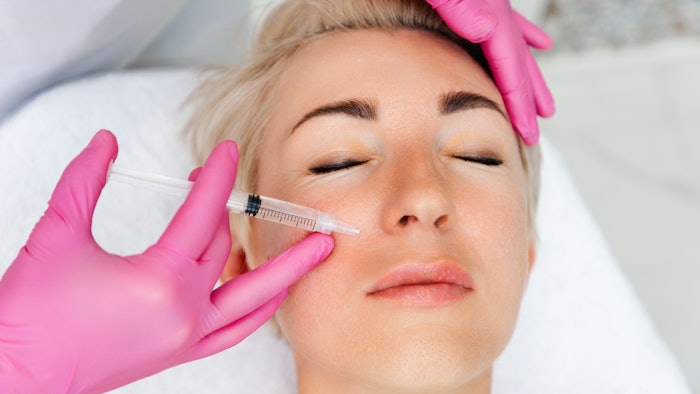 An open-label study of 207 subjects, published in Drugs in Dermatology (May 2022), found that soft tissue augmentation with calcium hydroxylapatite with integral lidocaine (CaHA+, Radiesse(+), Merz Aesthetics) demonstrated safety and effectiveness in the treatment of nasolabial folds (NLFs), marionette lines and cheek volume loss in real-life conditions up to 18 months.
Related: Combination CaHA and HA Fillers for Midface and Jawline Enhancement
Tatjana Pavicic, MD, et al, enrolled 207 subjects with moderate to severe facial volume deficit. Subjects were treated with CaHA(+) in the NLFs, marionette lines and cheeks. Researchers assesses efficacy using the Merz Aesthetics Scales (MAS), investigator- and subject-assessed Global Aesthetic Improvement Scales (iGAIS/sGAIS) and FACE-Q questionnaires. Responder rates were defined as at least one-point improvement on MAS according to blinded rating. Adverse event reporting was also recorded.
Related: Understanding Filler Rheology for Safer, More Attractive Outcomes
Twelve weeks after the last injection, responder rates were 93.6%, 88.7% and 81.9% in the NLFs, marionette lines, and cheeks, respectively. Investigator- and subject-assessed GAIS were consistent and showed high rates of improvement throughout the study, with a peak value of 98% at week 4 on iGAIS and 93.5% at 12 weeks after last injection on sGAIS.
After 18 months, 52.5% of subjects still perceived improvement via sGAIS, and total FACE-Q scores demonstrated high subject satisfaction with treatment.
All treatment-emergent adverse events were transient and expected (injection-site reactions mostly of mild to moderate intensity).