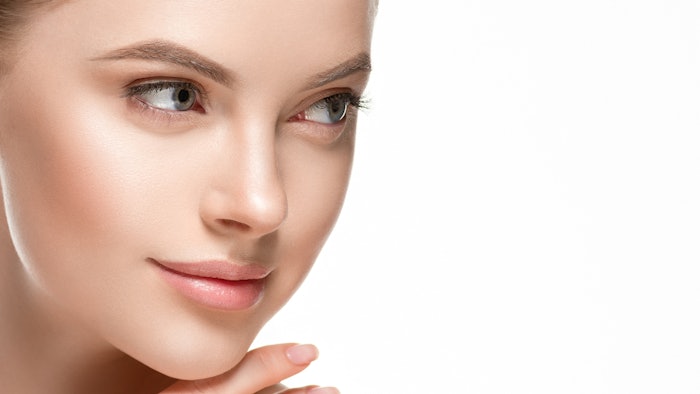 Combining calcium hydroxylapatite (CaHA, Radiesse) and hyaluronic acid (HA) fillers can enhance outcomes in the midface and lower face by offering the immediate plumping benefits of HA and the long-term neocollagenesis of CaHA with a low risk of adverse events, according to a study published in Aesthetic Plastic Surgery (August 2, 2021). 
Related: Contouring the Lower Third
Nabil Fakih-Gomez and Jonathan Kadouch performed a retrospective chart review of patients injected in the midface and lower face in their respective practices with a premixed hybrid formulation of CaHA and a hyaluronic acid composed of a cohesive polydensified matrix (Belotero Volume, Merz Pharmaceutical, CPM HA-V).
Related: Restylane Contour Approved for Cheek Augmentation
The two products were mixed by placing the contents of a CaHA syringe and a CPM-HA V syringe using a Luer-lock connector into a 10-ml empty syringe. They added 0.5 cc of lidocaine 2% for every 1.5 cc CaHA. A further 10-cc empty syringe was then joined, and the two gels transferred from one syringe to another, at least 10 times, to ensure full homogeneity.
The ratio of the two products varied based on the treatment indication and severity at presentation. The ratios of CaHA:CPM-HA in the face could vary from 1:1 to 1:3 for slight correction, from 1:4 to 2:4 for mild correction and from 2:6 to 3:8 for severe correction (the numbers refer to the number of syringes, not the volume).
Related: Guidelines for Hyperdilute CaHA
A total of 41 patients were included in the review (mean age of 47.5 years). The mean CR-MASJ score improved from 2.12 at baseline to 0.68 at three months and 1.27 at 12 months. All subjects had experienced a ≥1-point improvement in CR-MASJ score at three months versus 85% at 12 months. No adverse events were reported.