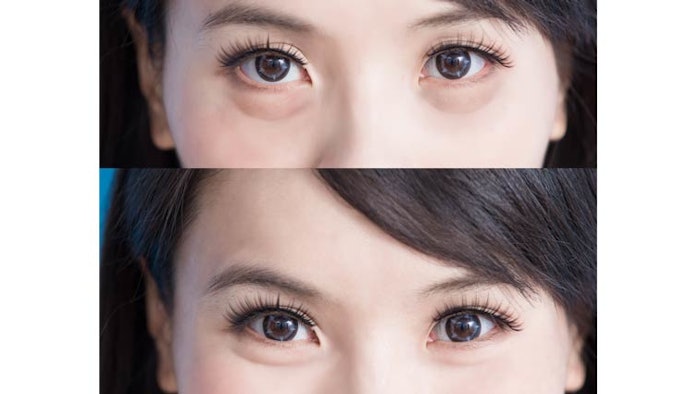 Filler injections for lower eyelid rejuvenation can be a difficult treatment due to complications that arise from changes that come with age. Researchers Jui-Yu Lin, MD and Chuan-Yuan Lin, MD proposed an alternative filler injection method for lower eyelid rejuvenation in Asian patients that proved to have high patient satisfaction. 
Research: [Injection Technique] Sculptra Lateral Lift
Published in the Journal of Cosmetic Dermatology (May 2022), the researchers analyzed the results and tests of over 100 patients that had recieved filler injections using the alternative technique since 2019. Any patient who had tear trough deformities, infra-orbital hollows, nasojugal grooves, dark eye circles and mild eyebags were considered potential candidates for this method. 
The researchers chose to use poly-d, l-lactic acid (PDLLA) (AestheFill; REGEN). The filler must be reconstituted with sterile water for injection (SWFI) before administration, and when patients' troughs, grooves or volume deficits were classes II and III, 3-4 ml of SWFI and 1 ml of lidocaine were used. When the deficits were class I, 5-7 ml of SWFI and 1 ml of lidocaine was used. 
Using a fanning injection technique, the researchers were able to evenly inject all of the deficits, with the depth being under the dermis layer. The total amount of filler injection was not more than 2 ml on each side. 
Research: Researchers Propose New Lip Injection Technique
Of the over 100 patients that had been injected using this technique, only some mild and transient post-injection complications such as edema, erythema and ecchymosis were found. Instances of high patient satisfaction with this treatment were recorded. The researchers emphasize that anyone who wants to perform this procedure should be well-trained and knowledgeable about the anatomy, product and procedure to prevent adverse events.