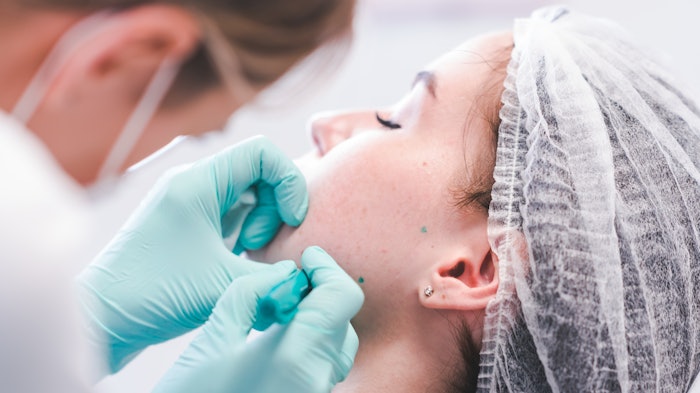 Optimal Injection Sites for BoNT Injections
Botulinum neurotoxin injection methods are commonly used for facial contouring. However, adverse effects have been reported owing to a lack of delicate anatomical information, according to "Guidelines for Botulinum Neurotoxin Injection for Facial Contouring," published in the September 2022 issue of Plastic and Reconstructive Surgery by Kyu-Ho Yi, M.D. and Hyung-Jin Lee, Ph.D., et. al. 
Related: Using BoNT-A to Temporarily Treat Acne Vulgaris
The report assessed current knowledge on the botulinum neurotoxin injection point localization with more recent anatomical dissection and modified Sihler staining procedures. They found that, for the muscles, the injection point can be more precisely demarcated. The hypertrophied temporalis and masseter muscles give the face a muscular-shaped and bulky contour.
The authors propose the optimal injection sites in relation to external anatomical landmarks for the frequently injected muscles of the face to facilitate the efficiency of botulinum neurotoxin injections. These guidelines can aid in more precise practice without the adverse effects of botulinum neurotoxin.
Read the entire report of guidelines in the Plastic and Reconstructive Surgery online journal.