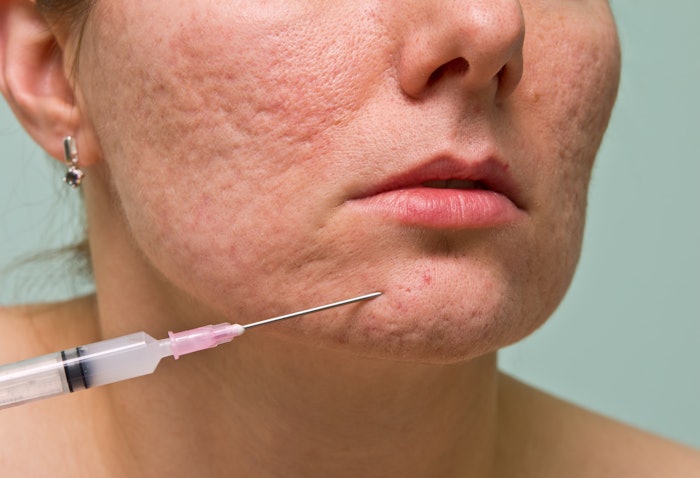 Benefits of BoNT-A for Acne Vulgaris
While widely used in aesthetics for wrinkles, frown lines and crow's feet, Botulinum toxin type A (BoNT-A) has potential benefits in treating acne vulgaris, according to evidence cited in a journal article published in the July 2022 issue of Aesthetic Surgery Journal.
According to the journal, the pathophysiology of acne vulgaris is multifactorial, with major contributors being increased sebum production, colonization of follicles with Propionibacterium acnes and excessive keratin deposition.
BoNT-A has been shown to reduce the production of sebum in sebaceous glands. Because arrector pili contraction is needed for sebum secretion, its paralysis results in reduced sebum on the skin surface. There is no evidence to suggest an antibacterial role of BoNT-A, making it likely that this reduction in sebum is the primary mechanism behind BoNT-A's ability to reduce acne vulgaris.
Related: Peels vs. Lasers for Treating Acne and Pigmentation Issues
BoNT-A Treatment Studies
A July 2013 study found a statistically significant reduction in sebum produced in patients with oily skin when treated with BoNT-A. The effects were most evident 4 weeks posttreatment. BoNT-A treatment was also found to significantly reduce sebum production compared with pretreatment sebum measurements in studies from March 2015, January 2021 and May 2021. The studies used either onabotulinumtoxinA (Botox; Allergan, Inc., Irvine, California) or abobotulinumtoxinA (Dysport; Ipsen Ltd, Slough, UK).
The greatest effect of the treatment appears to be between 1- and 4-weeks post injection. The limitations of administering BoNT-A to treat acne vulgaris include its temporary nature and need for repeat treatments, and although minimally invasive, injections can be painful and the use of needles may be unacceptable to some patients. Furthermore, although increased sebum production is implicated in the pathophysiology of acne vulgaris, not all cases are caused primarily by this, and therefore treatment with BoNT-A may be ineffective in these patients.