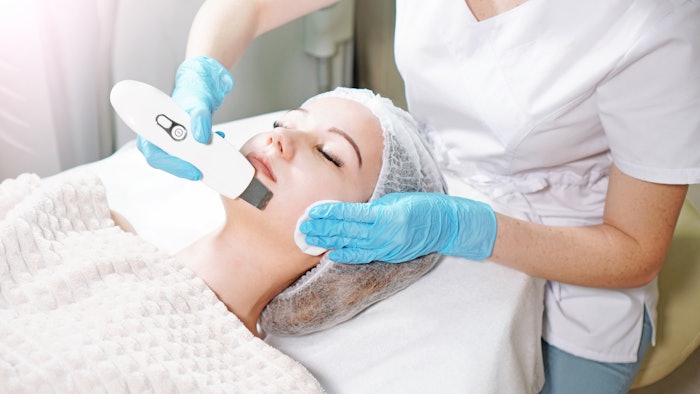 An article from Dermatology Times details how lasers and peels differ when treating acne scarring, wrinkles, pigmentation and actinic keratoses. Harold Brody, M.D., FAAD, a clinical professor of dermatology at Emory University School of Medicine in Atlanta, Georgia, advised which treatment would be most effective for each ailment and shared some considerations for patients of color.
Related: Combination IPL and Minocycline Effectively Treats Acne Vulgaris
Treating scarring requires using a physical modality with peeling: dry ice followed by TCA or a Jessner peel (JS) followed by TCA with sandpaper or the CROSS technique for pitted scars. Ablative fractional lasers can provide variable improvement.
Brody thinks peels are underused for wrinkles and can be effective at eliminating photoaging III and IV in one treatment using new formulas that require no EKG and IV hydration or analgesia in segmental peeling. Fully ablative erbium lasers can approximate those results, but prolonged healing can dampen its viability, according to the article.
Both lasers and peels are useful in treating melasma, although both may necessitate multiple treatments. For post-inflammatory hyperpigmentation, superficial peels and non-ablative fractional lasers help bleaches penetrate the skin.
Actinic Keratoses (AKs) can be removed with properly performed medium-depth peeling in one treatment, resulting in a 75% to 90% reduction in lesions, according to the article. The 927 Fractionated Thulium Laser can do the same but needs up to four treatments at 2- and 6-week intervals.
Brody noted that peels are usually best for single-treatment improvement, while lasers work better across multiple treatments and may require less downtime. Both may need follow-ups for small recurrences.
For patients of color, Brody advised that gentler peels and lasers should be used and dermatologists need to be aware of when to tell patients of color to stop pre-regimens: several days before for people with darker Fitzpatrick skin types, but the day of the procedure for those with lighter skin types, according to Brody.