Nutrafol conducted a six-month, single blind study with Dr. Sophia Kogan, Tess Marshall and Dr. Isabelle Raymond, testing the effectiveness of their core products (Nutrafol Men, Women, Women's Balance) in men and women of diverse ethnicities.
Related: Nutrafol Improves Hair Growth in Post-Menopausal Women
The prospective, single-blind study, published in the January 2022 issue of the Journal of Clinical and Aesthetic Dermatology showed that 84% of male and 80% of female subjects showed significant improvement in overall hair growth, coverage, density and volume at weeks 12 and 24.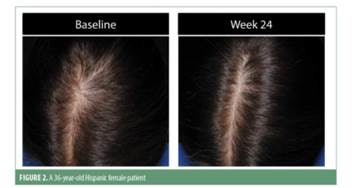 The researchers enrolled healthy men aged 20 to 55 years (n=47) and premenopausal women aged 20 to 45 years (n=51) with self-perceived, mild-to-moderate hair thinning and included African American, Asian, Hispanic Caucasian and Non-Hispanic Caucasian participants.
Related: Covid-19 Stress Boosting Hair Loss
Subjects took a nutraceutical supplement (Nutrafol Men or Women Capsules, Nutraceutical Wellness) daily for six months. Subjects were evaluated in the clinic at baseline and Weeks 12 and 24 with two self-assessments at Weeks 4 and 8. Study endpoints were standardized digital imaging and investigator rated assessments. Self-assessment questionnaires rated hair growth, hair satisfaction, and lifestyle factors.
Investigator ratings for baseline hair growth, coverage, density and volume were significant at Weeks 12 and 24 for all subjects. Significant improvement was seen in 83.7% of men and 79.5% of women at Week 24. Results were similar across ethnic subgroups with significant benefit at Weeks 12 and 24.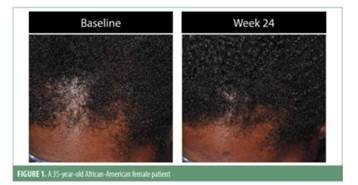 All subjects reported significant improvements in baseline hair appearance/quality, volume/fullness, scalp coverage, thickness and shedding at Weeks 4, 8, 12 and 24.