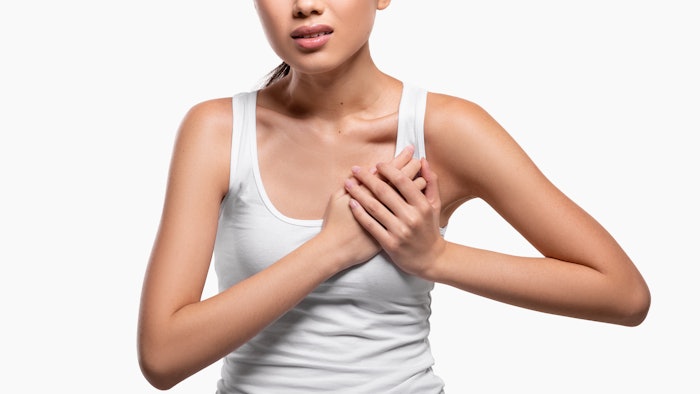 Breast Implant Illness Study
The Aesthetic Society and The Aesthetic Surgery Education and Research Foundation (ASERF) announced their findings from a study examining the systemic symptoms self-reported by some breast implant patients, known as Breast Implant Illness. This is the first prospective, blinded study with control groups to evaluate women with breast implant illness using both qualitative methods in the form of symptom surveys and quantitative methods analyzing bio specimens (blood and implant capsules).
Related: FDA Safety Alert: Cancerous Scar Tissue & Breast Implants

"There have been questions surrounding the safety of breast implants for as long as there have been breast implants. Breast Implant Illness is self-reported by a minority of women with breast implants and the symptoms being reported by these women needed to be looked at with a well-designed prospective scientific study," explains Caroline Glicksman, M.D., M.S.J., co-author. "Our goal was to design such a study and we utilized authoritative laboratories including Brown University and Johns Hopkins University to analyze the biospecimens."
Key Findings:
Part 1:
Part one of the study examined women describing medical symptoms they believe are being caused by their breast implants.
There are women with implants who experience a variety of symptoms that they believe are being caused by their implants.
They have real symptoms and are distressed that no diagnosis can be made.
Groups on social media insist that the only way to relieve these symptoms is through a complete or "en bloc" removal of the entire implant capsule.
The symptom improvement is independent of the type of capsulectomy performed and there was no statistical difference in symptom improvement whether the entire capsule was removed or partially removed at the time of implant removal.
Related: Aesthetic One App Registers Milestone 22K Breast Implants

Part 2:
Part two investigates claims that breast implants may contain heavy metals. The worry is that the implant capsules could also contain heavy metals, contributing to the patient's symptoms.
The implant capsule specimens collected from participants, as well as breast tissue samples of subjects that had never received an implant, were tested for 22 heavy metals.
The study found low measurable levels of some heavy metals in the implant capsules as well as normal breast tissue never exposed to any implanted medical device. None of the groups had tissue levels exceeding the level of acceptable internal exposure levels to heavy metals as dictated by the International Conference on Harmonization.
Part 3:
Part three examined blood and implant capsules to see if they could detect any quantifiable laboratory findings in the blood, capsule tissue pathology or microbes that set women with systemic symptoms they attribute to their implants apart from the two control groups.
There was no significant difference in the presence of bacteria on the implants or in the capsules, between the groups validated by analysis of the presence of bacterial DNA.
Peripheral blood analysis revealed few statistical distinctions between the cohorts.
The ASERF study demonstrated 94% of patients showed improvement in systemic symptoms after removal of their breast implants, with a 68% reduction in the number of symptoms reported.
Related: New Jersey Plastic Surgeons Introduce The Restore Breast Program

"The bottom line is that we found that these patient's symptoms improve after implant removal and they may improve without a capsulectomy which is a less invasive, less risky, and less expensive procedure," says Patricia McGuire, M.D., co-author of the study. "We have not found any consistent measurable differences between the breast implant illness subjects and the control groups that could be used to make a diagnosis. We can now have educated discussions with our patients to help them make informed surgical decisions when deciding to remove their implants."