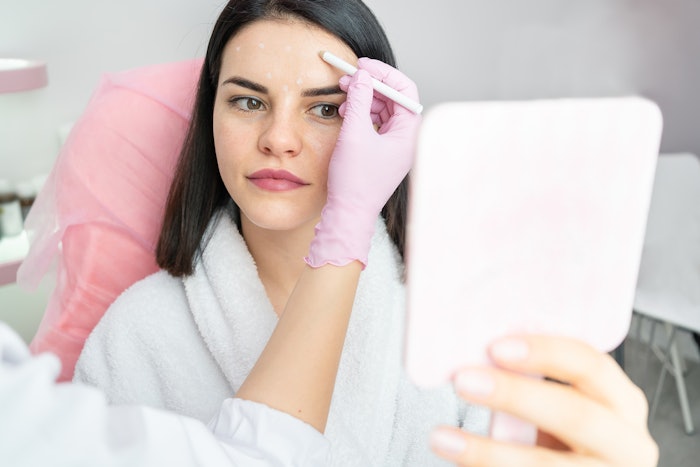 The MedSpa 2023 Outlook Survey published by Weave, a small business communication platform, found that more than a quarter of millennials (27%) and Gen X (26%) would still prioritize spending on medical spa cosmetic procedures.
The survey was commissioned in October of 2022 by Weave to 1,000 U.S. adults aged 18 years old or older, to find out their expectations regarding medspa providers and whether spending habits have shifted amid inflation and recession fears.
This market growth is also driven by multiple generations, including younger groups. Weave's survey found that more than half of millennials (53%) and almost half of Gen Z (48%) have received or are interested in receiving medical spa cosmetic treatments. 
Related: Preventing Millennial Skin Care Problems
Consumers Are Spending Less, Though Demand Remains
According to the survey, more than one in five consumers have decreased spending on medspa cosmetic treatments due to inflation and recession fears. However, over a quarter of millennials and Gen X would choose to spend on a cosmetic procedure over eating out at restaurants, getting their hair done or using at-home beauty treatments. 
This means it is important for medspa providers to ensure they're creating an experience that is memorable and meeting expectations in order to keep patients coming back in the midst of economic challenges. 
Multiple Payment Options Popular for Patients
Weave's survey discovered that more than one in five patients (22%) have skipped a cosmetic procedure due to the inability to pay over time. One solution to offer patients, which as grown in popularity, is a buy now pay later option. 
This number grows substantially in younger generations, with almost a third of millennials having forgone a cosmetic procedure due to their inability to pay over time. 
Patient Reviews, Modernization Remain Critical 
The report revealed that good reviews (36%) top the list of factors when it comes to choosing a medspa provider across all demographic groups. Providers who do not automate their Google Reviews to collect and manage their online reputation might struggle to attract new patients. 
It was found that 27% of Gen Z clients and nearly a quarter of millennials agree that modern digital offerings are the top contributing factor when choosing a medical spa provider. More than half (59%) of consumers said they would expect a medspa provider to have more modern digital tools than a primary care provider. This number grows among younger to middle-aged generations, with nearly 65% of millennials and more than 67% of Gen Z expecting the same.
Related: Your Medspa Mouthpiece: How to Market Your MedSpa
Botox More Popular than Oral Care
The survey found that more a quarter of consumers would prioritize a medspa appointment over a dental check-up, and more than a third of millennials and Gen Z patients revealed the same. 
This focus is projected to continue to grow, as the survey reported that 41% of patients consider cosmetic procedures essential to their mental health and well-being. The number increases among younger demographics, with half of millennials and almost half of Gen Z reporting the same. 
Key Takeaways for Medspa Providers in 2023
Medspa practitioners should maintain an online presence, as well as digital offerings like online scheduling. Owners must all focus on the digital experience as much as the in-person experience by implementing modern technology tools that allow for text communication, online scheduling, contactless payments and multiple payment options.