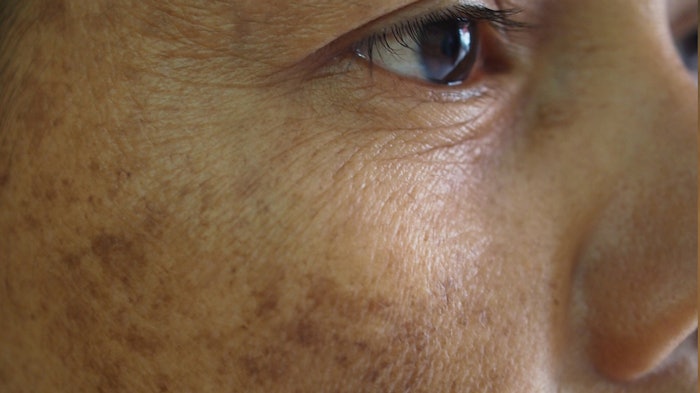 A study by Arielle N. B. Kauver, MD, et al, published in the Journal of Lasers in Surgery and Medicine (September 2021),  found that treatment with a 730 nm Ti:sapphire laser-pumped picosecond laser (Picoway, Candela Medical) reduces dark spots on the face and body with minimal risk of hyperpigmentation and is superior to the 532 nm or 755 nm picosecond laser wavelengths.
Related: Melasma Diagnosis and Management: An Evidence-Based Approach
The prospective study included 20 subjects with Fitzpatrick skin types II-IV and lentigines present on the face, trunk or extremities. They underwent four treatments using the 730 nm picosecond-domain laser. Pre and posttreatment photos were assessed by blinded reviewers using a five-point scale (0-4) indicating level of clearance at four-week and 12-week follow up visits.
The researchers also measured subject satisfaction using a five-point scale, and pain level using an 11-point scale (no pain = 0, extreme pain = 10). Finally, Investigator Global Improvement Score (IGIS) was performed at the four-week and 12-week follow-up visiting, using an 11-point clearance scale.
The investigators also took biopsies and performed histology to compare areas treated 730 nm and 532 nm picosecond pulses to areas treated with 755 and 532 nm nanosecond pulses. 
Related: [Melasma] Microdermabrasion Enhances Efficacy of Glycolic Acid Peels
Sixteen subjects completed all study visits (118 total discontinous treatment areas) with 30 body regions being studied including the arms (6), hands (16), scalp (1), forehead (2), face (3) and back (2). Spot sizes ranging from 2 mm to 5 mm diameters were used with fluences ranging from 0.8 to 4.0 J/cm2. Researchers gathered a mean pain score of 3.6 of 10 for all four treatments.
Of the randomly paired posttreatment images, 99% were correctly identified at the four-week follow up, and 100% were correctly identified at the 12-week follow up. At four and 12 week follow-up the mean IGIS scores were 6.7 and 7.0, respectively, and 76% and 73% of subjects were satisfied to highly satisfied.
The mean clearance for all 118 treatment areas was 3 out of 4 in follow-up visits. Researchers observed typical erythema, edema, dryness, crusting and itching but negligible purpura, no pinpoint bleeding, blistering or scarring and no significant hyperpigmentation or hypopigmentation post-treatment.
"Solar lentigines, dark spots that result from sun exposure, are a common aesthetic concern, but patients with dark skin tones often develop hyperpigmentaion following laser treatment of these lesions," said Kauvar. "The titanium:sapphire 730 nm picosecond laser provides an optimal combination of wavelength and pulse duration for effective treatment of solar lentigines with minimal risk of hyperpigmentation."