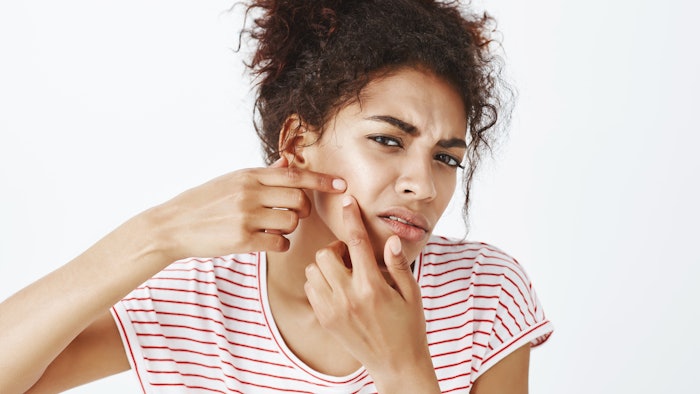 Researchers assessing the quality of life (QoL) of young adults with acne found that, while acne impaired QoL for all young adults surveyed, females and those with acne scars reported the greatest impact, as published in the Journal of Cosmetic Dermatology (October 2021). 
Related: [Survey] The Impact of Skin Imperfections on Consumer's Mental Health
To assess the QoL of young adults (age 18 to 25) with acne, researchers utilized the dermatology life quality index (DLQI) and Cardiff acne disability index (CADI). This cross-sectional questionnaire study included 1,392 subjects with acne, and each subject completed both the DLQI and CADI questionnaires. Researchers calculated the mean values as well as individual item scores on the DLQI and CADI. They also used t-test for testing mean values and Spearman's rho coefficient for correlation between the two questionnaires. 
Related: Cosmetic Patient Evaluation in a Time of Zoom and Selfies
The mean DLQI (4.50) and CADI (3.60) scores were low, revealing the negative impact of acne on QoL. Females and individuals with acne scars scored significantly higher in "feelings of embarrassment" and "interference with social activities," across both questionnaires. There was no correlation between severity or duration of acne and QoL scores. Spearman's rho coefficient showed good correlation between DLQI and CADI scales.
Researchers deduced that the quality of life of people with acne was significantly impaired, and this impairment increased in females and those suffering with acne scars as well as acne.