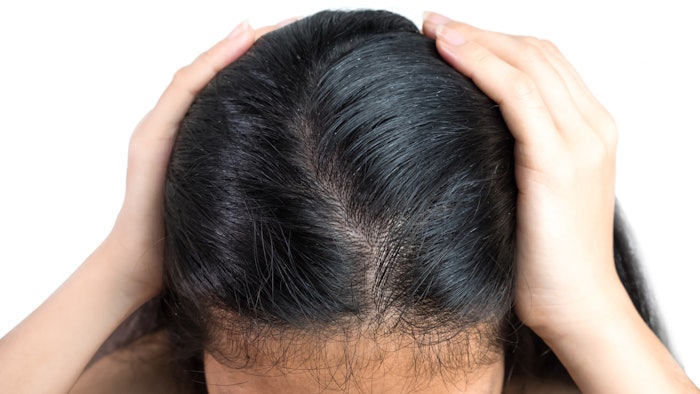 A literature review by Antonella Tosti, MD, and James R. Schwartz, PhD, published in the International Journal of Cosmetic Science (November 2021), found what many suspect—hair health is directly impacted by the health of the scalp.
The authors searched Pubmed to identify all articles discussing human scalp conditions and their impact on hair growth and its properties, using the search terms "scalp psoriasis," "dandruff," "seborrheic dermatitis" and "tinea capitis" in combination with hair and its attributes. Articles were reviewed and judged appropriate for inclusion if they described hair impacts of the scalp condition.
Related: How Broccoli Puts a Halt to Hair Loss
A total of 21 studies were included, dating back over 50 years. The authors noted that the majority of the studies are predominately epidemiological in nature, comparing hair from the scalps of diseased and normal populations. But they did identify one recent treatment study that compared hair health pre- and post-treatment for dandruff/seborrhoeic dermatitis (D/SD).
Findings
The 20 epidemiological studies provided strong support for concluding that the condition of the scalp can influence the quality of the hair which is produced.
Related: Vitamin D's Role in Hair Loss
Studies of subjects with psoriasis that used scanning electron microscopy (SEM) and, more recently, atomic force microscopy (AFM) showed that hair from lesional psoriatic scalp sites showed significant morphological differences in comparison with hair obtained from healthy individuals.
Specifically, the psoriasis-derived hair was smaller in diameter and had more surface pitting. In addition, two studies found alterations to the cuticle of psoriatic hairs in the form of surface pitting, cuticle breakage and general wear.
Related: Nutraceutical Promotes Hair Growth in Menopausal Women
The AFM demonstrated that psoriatic hair had thicker cuticle edges, an overall rougher surface and more surface pitting. Clinical evaluations of psoriasis using trichograms to quantify hair cycle stage showed increased telogen and decreased anagen. Similar results were seen in patients with dandruff/seborrhoeic dermatitis and atopic dermatitis.
The one treatment study, which was a 24-week, placebo-controlled clinical treatment of D/SD with a commercially available therapeutic product, demonstrated elevated levels of oxidative stress at baseline that was reduced significantly relative to placebo after 16 weeks of treatment. This study also found that hair condition was improved (both chemically and physically) as a result of the underlying improvement in scalp condition.
Related: Regenerative Medicine in Hair Loss
The authors concluded that a possible explanation for the change in hair appearance and growth due to underlying scalp conditions involves altered keratinization of the cuticles in the pre-emergent hair due to perturbations associated with a surrounding oxidative stress environment. "The resultant cuticular cells are less flexible than normal, which may impair both anchorage and subsequent fibre surface integrity," they wrote. "Once the fibre emerges from the scalp and experiences normal mechanical interactions, the more brittle cuticle breaks and chips off. This results in a rougher cuticle that is also less functionally effective."