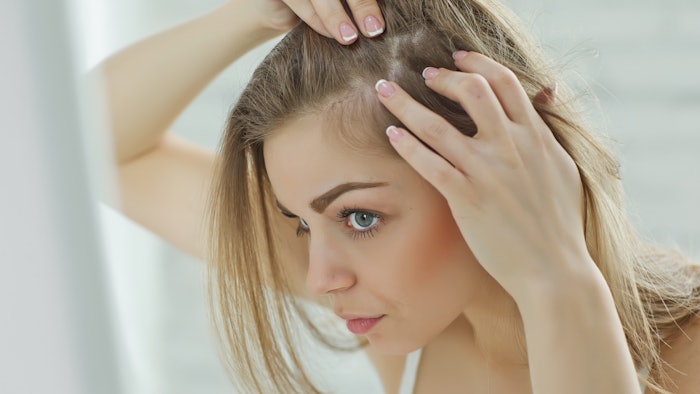 Topical minoxidil has typically been the standard for treating hair loss, but now, low-dose oral minoxidil (LDOM) is gaining popularity as an alternative to topical use. The hashtag has 1.5 million views on Tik Tok, and FDA-approved oral supplements for hair loss containing minoxidil are being developed. With the growing market and opportunity in the hair loss treatment industry, low-dose oral minoxidil represents the potential future of hair loss.
Related: Common Causes of Hair Loss In Men and Best Treatment Options
Minoxidil was originally synthesized as an antihypertensive drug. It became popular in treating hair loss after clinical trials noticed hirsutism and hypertrichosis among potential drug side effects, leading to its standard usage as a topical treatment for hair loss disorders in products that lead the OTC hair loss treatment market, like Rogaine.
In some cases, topical minoxidil can cause irritation or allergy. It can also potentially cause poor hair texture and be an overall inconvenience to use, which causes compliance issues among patients. There are also clients who will not see results from topical minoxidil because they lack the correct enzyme in their hair follicles to activate the medication.
Oral Minoxidil for Hair Loss
All of these potential issues have led dermatologists to consider other options, including prescribing oral minoxidil as an off-label solution to hair loss. Though minoxidil is approved by the FDA to treat hair loss in topical form, it has not been approved for oral use for hair loss. The drug is, however, FDA-approved as an oral treatment for high blood pressure, in higher doses. Oral Minoxidil for hair loss is also not licensed in the United Kingdom.
Studies using LDOM are still small, but the results have been promising. Studies in 2021 and 2022 both found LDOM (dosed between .25 and 5 mg per day) to be a well-tolerated and effective therapy for treating hair disorders in normotensive patients having difficulty with topical solutions.
Patients receiving high dosages (5 or more mg a day) reported experiencing more adverse effects, including hypertrichosis (excessive hair) and lower limb edema. Temporary shedding has also been reported as a potential side effect of minoxidil. This side effect occurs within the first 6 weeks and is said to cease after four weeks. It is recommended to continue using minoxidil even when experiencing shedding.
A November 2022 study found oral minoxidil to be superior to topical minoxidil for its enhanced cosmesis, cost-savings and potential for co-therapy with other topical formulations or topicals used for camouflage hair loss.
Other Uses of Oral Minoxidil
Oral minoxidil has also been used to treat hair loss in cancer patients in clinical studies with promising results and few complications. It has also been considered as an effective and helpful treatment for gender-affirming patients.
Per Growth Market Reports, Minoxidil and Finasteride API Market was valued at $153 million in 2022 and is expected to reach $263 million, expanding at a CAGR of 6.1%, by the end of 2031. The market growth is attributed to the increasing cases of hair loss and the rising awareness of hair loss medications.
HappyHead Super Capsules, which contain finasteride, minoxidil and vitamin D, are advertised as "the strongest FDA-approved, prescription hair regrowth medicine in a single daily capsule." SuperCapsule is designed to help regrow lost hair and prevent further hair loss with three to six months of daily use.