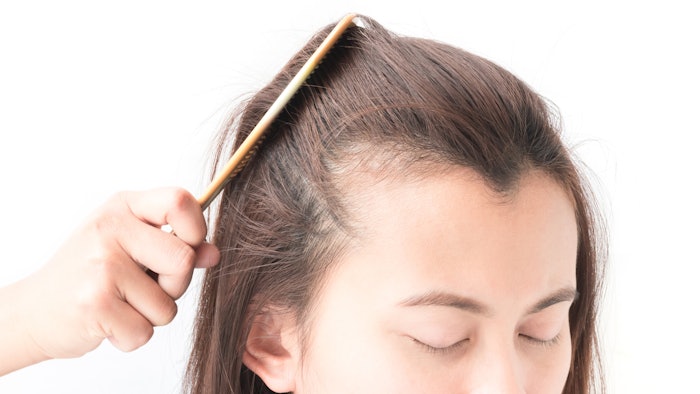 A comparative clinical and dermoscopic study of oral vitamin D alone, topical minoxidil or a combination of both in patients with female pattern hair loss (FPHL) found that combination therapy offers superior benefits to either treatment alone.
Related: [Review] Vitamin D's Role in Hair Loss
For the study, published in the Journal of Cosmetic Dermatology (January 10, 2022), Ghada F. R. Hassan, MD, evaluated the serum levels of 25-hydroxy vitamin D in patients with FPHL as well as the efficacy of the three treatment options.
A total of 60 subjects were enrolled (45 patients with FPHL and 15 controls) to measure serum levels of vitamin D. Subjects with FPHL then were subdivided into three groups: Group 1 received topical minoxidil and oral vitamin D, Group 2 received topical minoxidil and Group 3 received oral vitamin D for six months.
The investigators performed clinical and dermoscopic evaluation for all three groups before and after treatment.
Related: Pumpkin Seed Oil: A New Option for Female Pattern Hair Loss
They found that subjects with FPHL had significantly lower serum levels of vitamin D compared to controls. After treatment, there was statistically significant improvement in hair growth and thickness in Groups 1 and 2, but no significant improvement was found in Group 3. The combination treatment group had better results than topical minoxidil alone.