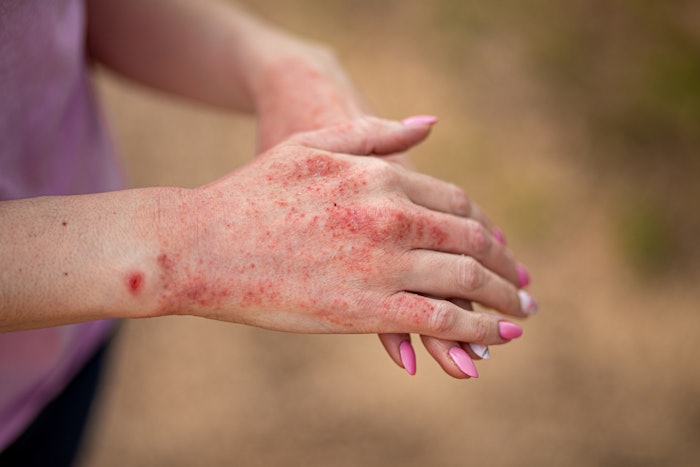 Amytrx Therapeutics has announced that their abstract from the Revolutionizing Atopic Dermatitis (RAD) Conference has been published in the British Journal of Dermatology. The abstract highlights data that demonstrates the promising safety, tolerability and efficacy outcomes observed with AMTX-100 in a Phase 1 clinical trial in adults with mild to moderate atopic dermatitis.
Related: Kao Develops RNA Monitoring Technique for Diagnosis of Early-onset Atopic Dermatitis
AMTX-100 is a novel peptide currently being developed by Amytrx Therapeutics for the treatment of inflammatory conditions. In the Phase 1 study, patients experienced substantial improvements in key disease-related parameters, including reduced pruritus and diminished inflammation, as assessed by a visible decrease in affected body surface area. The study also defined maximum-tolerated dosage, as well as safety, tolerability, and efficacy, with no significant adverse events reported.
According to the company, the abstract reinforces the therapeutic potential of their leading peptide formula AMTX-100, a novel, chimeric, 100% human peptide that modulates inflammation. It also coincides with open enrollment for the next leg of clinical trials in a Phase 2 study of AMTX-100 in atopic dermatitis patients. Atopic dermatitis affects nearly 16.5 million adults in the United States.
Michael Howell, Ph.D., a scientific advisor to Amytrx, said, "The results from this clinical trial demonstrate the therapeutic benefit for AMTX-100 in patients with mild to moderate atopic dermatitis. This work additionally signifies an important step forward in our mission to develop a safe and effective therapy for atopic dermatitis."