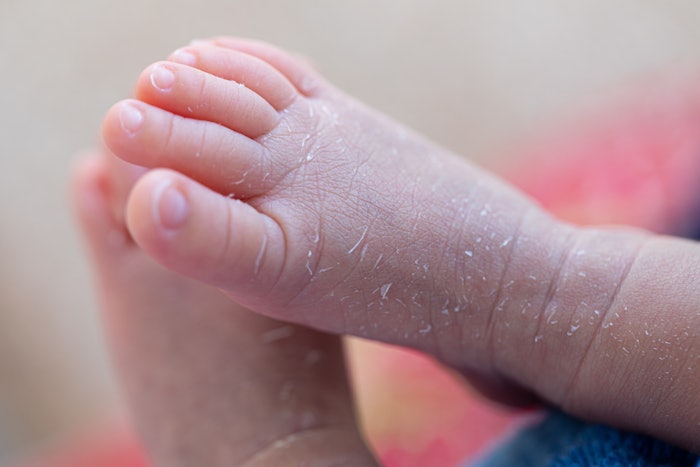 Kao Corporation has revealed a new technique for diagnosing atopic dermatitis (AD)—RNA monitoring—that analyzes mRNA from samples of sebum collected from infants using an oil-blotting film. The noninvasive method can help medical professionals accurately identify and treat early-onset AD.
It can be difficult to diagnose AD in infants due to a variety of factors from reluctant parents to the challenges of performing invasive diagnostic procedures on infant patients. But early diagnosis and intervention of early-onset AD are essential to ensure the infant's psychological and physical health.
Researchers at Kao identified that sebum contains measurable levels of human mRNA molecules. They hypothesized that analyzing the genetic expression of RNA-containing sebum samples could reveal the molecular features of AD and its underlying pathogenesis. Researchers used this discovery to develop the RNA monitoring technique that enables human skin transcriptome analysis of the mRNA in sebum collected from the skin using a simple oil-blotting film.
Related: Alphyn Biologics' AB-101 Atopic Dermatitis Treatment Shows Promise in Ongoing Phase 2a Trial
The usefulness of RNA monitoring was verified in a study published in the Journal of the European Academy of Dermatology and Venereology in March 2023, and conducted in collaboration with Kiwako Yamamoto-Hanada and Yukihiro Ohya of the National Center for Allergy Research at the National Center for Child Health and Development, Japan.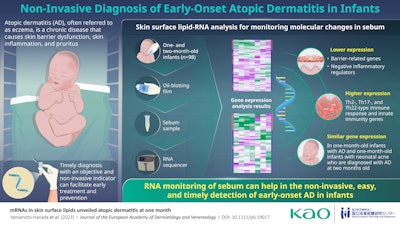 The study analyzed 98 one- and two-month-old infants. In some of these infants, a diagnosis of AD was made according to the United Kingdom Working Party's criteria. The researchers collected sebum from the facial skin using a single oil-blotting film, then mRNA in skin surface lipids (SSLs) were extracted for performing transcriptome analysis and subjected to data analysis for identifying underlying molecular features of early-onset AD in infants.
The analysis revealed several genes with different expressions between infants with and without AD. Specifically, the researchers observed that one-month-old infants with AD had lower expression of genes related to lipid metabolism and synthesis, tight junctions, antimicrobial peptides and keratinization and higher expression of genes related to Th2-, Th17- and Th22-type immune responses. The results also showed that through changes in the levels of these markers, sebum RNA could be used to detect early-onset of AD.