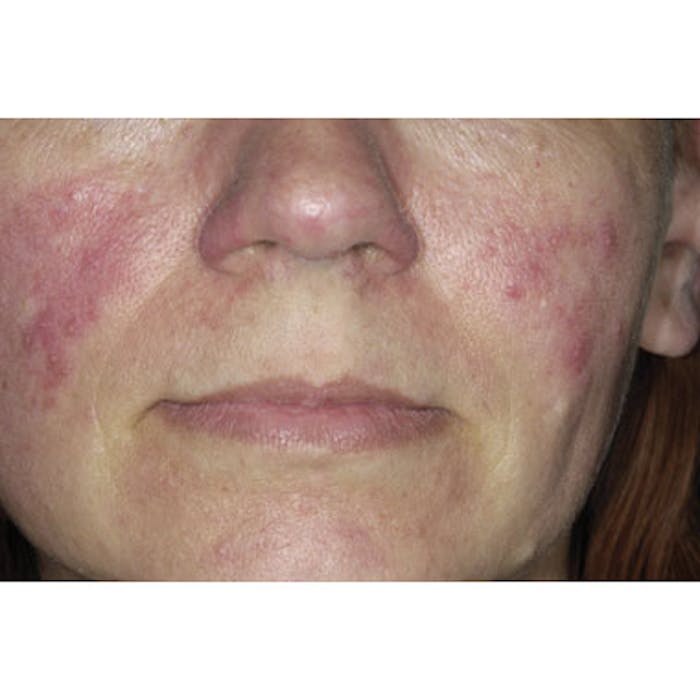 In late October 2011, Galderma Pharma S.A. (www.galderma.com) announced top-line results from its Phase 2b trial of CD07805/47 gel 0.5%, the company's proprietary brimonidine tartrate formulation. The results confirm the gel's potential to become a viable topical treatment option for the persistent facial redness of rosacea. If approved, the formulation could provide an alternative to laser and IPL treatments currently considered the gold standard in addressing rosacea-related redness and telangectasia.
Galderma obtained the brimonidine tartrate solution—a vasoconstrictor most notably used in eye drops (Alphagan by Allergan, www.allergan.com) for the treatment of open-angle glaucoma—when it bought CollaGenex Pharmaceuticals in 2008.
"We currently have topical medications to treat pimples caused by rosacea but no medical therapies with FDA approval to treat the persistent redness," says Joseph F. Fowler, MD, clinical professor of dermatology at the University of Louisville, Louisville, Kentucky and a principal study investigator. "Some patients with rosacea have no symptoms other than the flushing. While the Galderma compound may not get at the source of rosacea, it could possibly help enhance the quality of life for the millions of patients affected by persistent facial redness."
Perhaps the most exciting news to come out of the eight-week, daily-use study was that there was no evidence of tachyphylaxis with CD07805/47. Results also showed the drug to be safe and well-tolerated. "We still need to establish the best regimen," says Dr. Fowler, "but it looks like the drug can be effectively used once a day to get an ongoing effect. This may vary with some individuals but trial data do indicate that continued use is safe."
More complete results will be submitted for publication and further data analysis. "While we don't have quantitative numbers to share as yet, qualitatively, the drug does seem to produce visibly obvious results," reports Dr. Fowler. "It may not provide 100% clearance for all patients, but it certainly gives a noticeable effect. In our trials, we were looking for a 2-grade improvement on a scale of 0 to 5 and we did find that consistently." Phase 3 studies are underway.
When might the drug be available? Galderma's Phase 3 trial will be complete in August 2012 at the earliest. The FDA approval process that follows has taken 15 months or so for similar drugs. "If the trial continues to prove the drug's safety and efficacy, it will be great to have something to offer patients. Right now we don't have anything that does this," says Dr. Fowler.


Linda W. Lewis is a MedEsthetics contributing editor.
Image copyright Dr. P. Mrazzi/Photo Researchers, Inc.