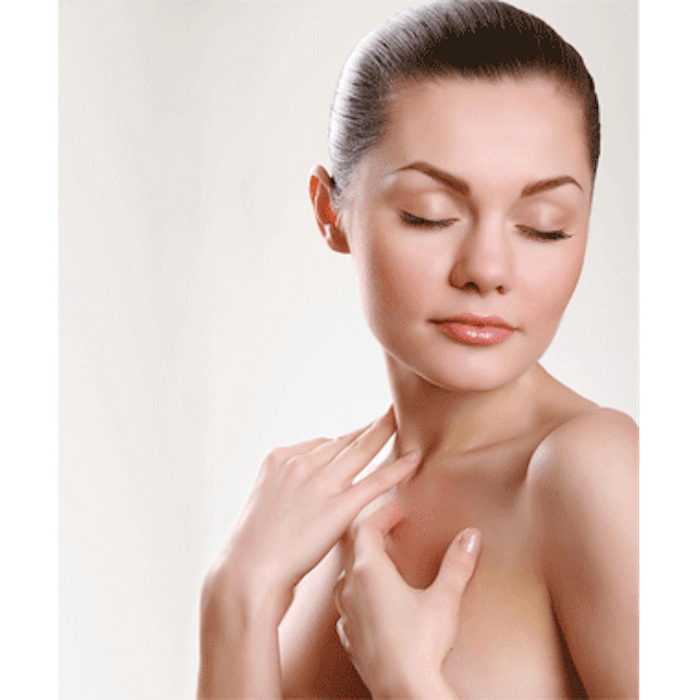 In recent years, skincare formulators and medical aesthetic facilities alike have seen body care move from an afterthought to a main event. As patient awareness of off-face treatment options expands, so too does the desire for targeted homecare products specifically formulated for the chest, hands and body. "Skin care is becoming more popular and more targeted—now you see more care for the hands, face, neck, heels, elbows and the backs of arms," says Tatiana Kononov, director of research and development for Revision Skincare (revisionskincare.com). "We're finding a lot of treatments now being taken from the face and applied to the hands and décolleté, for example."
Peeling Back Time
Antiaging treatments traditionally used for the face, such as chemical peels, are being increasingly performed on the body—especially on areas that are exposed to the elements. "It is a trend now to treat the décolleté, body and hands with a combination of acids to target hyperpigmentation, acne and aging," says Maria Gutierrez, product manager of Glytone (glytone-usa.com). Her company recently launched Enerpeel Hands, a peel specifically developed to address hyperpigmentation, wrinkling and thinning skin on the hands. "Other peels for different parts of the body are going to be released, because the market is demanding it," she says.
Key differences in chemical peel formulations for the face versus the hands or body center on the types and strengths of acids used. Kononov points out that the trend for facial peels has been toward gentler formulations that cause less redness and peeling. However, glycolic acid and more aggressive AHA exfoliators are very functional on areas such as the elbows and feet. Additionally, active peeling ingredients can be used in higher concentrations on the back to treat chronic breakouts and on the legs for folliculitis, razor bumps and dark spots.
The longevity of in-office peels can be increased with topical home care. "Hand peels often feature a combination of acids—lactic, TCA and kojic—to treat hyperpigmentation and signs of aging, and for immediate brightening," says Gutierrez. "At-home products are more likely to have peptides or hydroquinone." A three-pronged approach can create a powerful, targeted antiaging treatment; Gutierrez advocates choosing products that combine traditional skincare ingredients such as glycolic acid, peptides for natural skin repair and antioxidants for protection.
Image copyright iStockphoto.com.
[pagebreak]
Proven Ingredients Find a New Stage
Matthew Schulman, MD, a New York-based plastic surgeon and creator of Skin Therapy by Matthew Schulman (msmdskintherapy.com), notes that proven antiaging ingredients are now moving from the face to other exposed areas. "For areas such as the neck, chest and hands, products with retinol stimulate collagen, eliminate sagging and crepiness, and suppress pigment to even skin tone," he says. "In-office treatments will have improved results and long-term benefits when combined with at-home maintenance that's designed to improve the health of skin and regenerate good skin cells.
"We utilize clinically proven ingredients for the face—retinols, alpha hydroxy acids (salicylic, glycolic and lactic) and antioxidants, such as vitamins C and E. But we deliver them in a way that works for the body," Dr. Schulman explains. This includes lowering the concentration of actives for the neck, chest and décolleté and increasing actives for less sensitive areas, such as the back, arms and legs.
Because there are fewer sebaceous glands on the body than on the face, moisturizing ingredients are of the utmost importance, says Kononov. "To prevent crepiness, the neck needs moisture, and the same with hands, since they're subject to constant washing," she says. Her company incorporates both short-term and long-term moisturizing agents in its products, including water-based ingredients that quench skin immediately—such as hyaluronic acid and sodium hyaluronate—and those that moisturize throughout the day—like biosaccharide gum. The company also includes both lipid- and oil-based moisturizers, such as shea or mango butters and sunflower seed oil. Because skin is made up of both "oil-loving" and "water-loving" components, these ingredients help to maintain the results of laser or radiofrequency treatments and improve outcomes for patients who undergo surgery by refining skin texture, appearance and tone.
One of the latest moisturizing ingredients utilized by Revision Skincare is the "resurrection plant" (Myrothamnus flabellifolius)—indigenous to South Africa—which grows in extremely rocky, moisture-deprived climates and springs back to life after rain. Quinic acid esters help the plant mediate stressful conditions—similar to conditions that stress skin, like cold, dehydration and changes in humidity levels. "Moisture is a very elementary concept, but so important," says Kononov. "Think about how hydration is important to the body internally; it's the same for skin. Stressed skin is aging skin."
[pagebreak]
Ingredient Intelligence
Peptides, antioxidants and vitamin C—popular facial ingredients—are now being applied to the neck and hands and even added into sunscreen, but stability remains key, says Kononov. "One of the ingredients breaking through now is THD ascorbate, a vitamin C derivative that's unique in that it's extremely stable and functional," she explains. "It's similar to L-ascorbic acid, but without those issues of being unstable and not bioavailable." THD ascorbate is designed to improve stability and shelf life of vitamin C-based products, where it functions as a high-quality moisturizer, skin brightener and wound healer. It also promotes collagen synthesis and protects skin from UVA/UVB rays. "It's antiaging, antioxidant and brightening. It's a very expensive ingredient, but it is the gold standard of vitamin C technology," says Kononov.
Tocopheryl Glucoside—a more stable form of vitamin E—is also finding its way into highend skin and body care formulations. Schulman utilizes the powder form of ECGC—the active ingredient in green tea. His ECGC-based products are mixed upon purchase, allowing for a 30-day activation time, or 60 days if refrigerated. "ECGC is extremely unstable, and within a few weeks, it's completely deactivated," he says.
Hyperpigmentation is one of the most common signs of aging on the neck, chest and hands. And, as the debate over hydroquinone rages on, many formulators are on the lookout for other options. "Hydroquinone has gotten a bad rap and it is being replaced by alternatives such as Chromabright, magnesium ascorbyl phosphate and sodium ascorbyl phosphate," says Therese Clark, co-founder of Phoenix-based mybody (lovemybody.com). "We're looking for a plant-based alternative [to hydroquinone], but we're not there yet."
Schulman notes that the 2% hydroquinone allowed for OTC skin lighteners isn't always strong enough to achieve good results; thus, many formulators have switched to alternatives, including arbutin, kojic acid and licorice extract. To tackle dark spots and discoloration, formulators—including Revision Skincare—are finding that a combination of skin lightening and brightening ingredients is most effective.
The continued consumer interest in "green" and natural products means that what is not in skincare formulations is becoming as important to users as what is in them, says Clark. Modern consumers are shying away from well-publicized ingredients, including parabens, xenoestrogens, sulfates, PEG and phthalates. Mybody has developed a peel line utilizing non-living probiotics that work to increase oxygen, build volume and stimulate skin to repair itself without creating an injury. "These ingredients are being re-engineered to be skin-compatible, allowing them to be delivered into skin and easily digested by enzymes (lipases)," says Clark, who notes that even with the move toward more natural ingredients, consumer expectations of what a skincare product should look and feel like limits formulators who are moving toward more natural formulations, as it is difficult to avoid the use of artificial dyes and colors for patients who want the "perfect white cream," she says.
[pagebreak]
Special Delivery
When it comes to the format of bodycare products, there are some special concerns formulators must take into account. While thicker creams and serums tend to offer the best penetration, Schulman notes that creams often have the disadvantage of being greasy, messy or heavy. Products that have the potential to discolor clothing or wipe off easily are a poor choice for the body. "Sprays and serums are great for the body; with a spray format, a thin layer can dry within a minute and doesn't come off—plus, it's easier to apply to the back and chest," he says.
Gutierrez agrees with Schulman that serums are overall very effective and the star format for many off-face formulations. "Penetration enhancers, such as dimethyl isosorbide, also offer better penetration, delivering active ingredients in a more targeted way," she says.
Slimming and Toning
Products focused on slimming the body and reducing cellulite have long been a mainstay of body-based skin care, and these popular formulations are being improved, says Clark. "Body creams have traditionally been caffeine-based and sit on top of skin, so they're uncomfortable. That's been a big problem with body care—the products' texture doesn't feel good," she says. New offerings include a combination of proven skin-strengthening ingredients, like topical retinol to build collagen and strengthen skin, plus new algae- and plant-derived alpha blockers to help reduce cellulite.
Mybody's Fitting Room, for example, incorporates Lanachrys, a botanical alpha-2 blocker that promotes lipolysis, and Theophyllisilane C—a silicone derivative of theophylline acetic acid and alginic acid—which protects structural proteins from glycation, improves the architectural structure of the skin by replacing naturally occurring silicium and promotes lipolysis.
In addition to more elegant formulations and improved ingredient technologies, skincare products developed for the neck, hands, feet and body are also benefiting from increased consumer awareness of the importance of skin care. "It used to be that clients needed to see an immediate difference. But today, people are aware that sunscreen and antioxidants are important even though the benefits will take years to manifest," says Kononov. "They are learning the long-term importance of skin care—including care of the hands, neck and body." ME
Tracy Morin is a freelance writer and editor based in Oxford, MS.