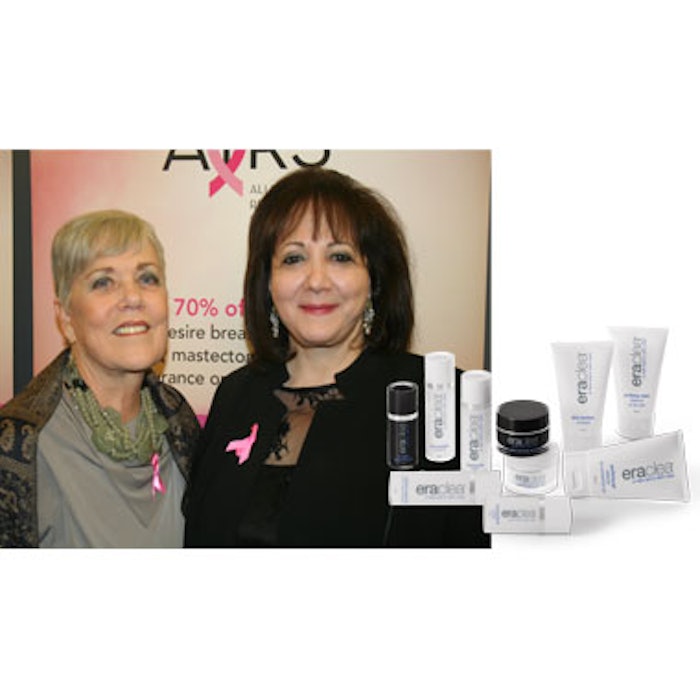 Skincare company eraclea was founded in 2011 by Morgan Hare and Janet Denlinger, PhD. The two met 40 years ago in Boston—they were neighbors, though neither knew anyone lived in the apartment next door. One night, Hare heard noises and looked out her peephole to see Denlinger trying to move a number of suitcases; she introduced herself and the two had dinner together. They quickly went from being neighbors to close friends—and eventually business partners.
Among the many things they had in common was a love of skin care, and the duo often spoke about starting their own line of products. Based on their backgrounds—Hare worked in marketing and medical design, and Denlinger was a co-founder of biotechnology R&D company Biomatrix, president of the Matrix Biology Institute, and chief scientific officer and co-founder of Hylaco, an ingredient and product development company—they both felt that existing skincare formulations didn't contain enough active ingredients to really work. By combining Denlinger's research background with Hare's marketing background, they felt they had an opportunity and the expertise to raise the bar in terms of quality and packaging. "We wanted to look at aging skin—what are the problems, and what are the solutions?" says Hare. "Finally one day we agreed that we weren't getting any younger, and in 2011 we said, 'It's now or never.'"
Denlinger obtained one of the first patents on hyaluronic acid (HA), an ingredient she sold to Estee Lauder years ago for their wrinkle-reducing serum. Though HA was already available in skincare formulations, Denlinger's years of research on the structure, function and different forms of HA yielded the creation of the patented HylaSponge system, which utilizes a high concentration of HA that acts like an extra skin layer. "Using proprietary polymerization methods, a network of large hyaluronic acid molecular chains is bound into an assembly of very large coils that form spheroidal particles of virtually infinite molecular weight," says Hare. "The spheroidal particles are absorbed and release large volumes of water or water-soluble molecules—much like a sponge—to retain a great amount of water even when they feel dry on the surface of the skin. Other components of the system are small and large molecular weight HA molecules."
The eraclea line includes products that cleanse, exfoliate, moisturize and protect. Not only do the founders include the HylaSponge system in every product, they also pair it with high concentrations of actives, such as antioxidants, vitamins, peptides and botanicals, to ensure that each formulation is effective. "Some companies just add ingredients at a level where they can say that they're in the product," says Hare. "We do it the way we think is correct—really put enough of every ingredient in, so that a product does what it says it's going to do."
Hare says that the biggest challenge in starting the product line was the sudden transition from working in large organizations to a small, two-person business. Accustomed to being able to delegate tasks to staff, Hare saw the adjustment as a learning opportunity. "I learned to do a lot that I'd previously never considered," she recalls. "It was challenging because we had never thought about certain day-to-day things—we didn't know, for instance, where to find packaging sources and had to figure that out ourselves." Both Hare and Denlinger chose to source all aspects of eraclea themselves. Rather than approach a vendor for packaging, they decided together how they wanted the line to look and why; they met with several companies and eventually chose one that offered clean lines and fair prices. "Each step of the way, Jan and I talked through everything and made decisions based on all sorts of nuances: what the products will feel like when you're holding them, how they will look if left out on a dressing table, and if you'll be proud that they're sitting out there," says Hare. "We truly take a very holistic approach to the look and feel of our products."
She notes that the typical target audience for antiaging products is no longer just women ages 35 to 55, as it used to be a few years ago. "You have all the baby boomers who are aging, and they're not saying, 'Oh I just turned 60 and I can't do anything anymore.' Instead, they're obviously doing all sorts of procedures: injectables and plastic surgery, and using good skin care. And then there are people in their 20s also getting Botox and other kinds of injectables, starting to take better care of their skin at a younger age," says Hare. "The market has in recent years really expanded because there's interest on both ends to maintaining what people have in terms of their skin."
Image courtesy of eraclea.
[pagebreak]
"We're really proud of what we've done," she adds. "My main goal is that every woman should know that she has the ability to take care of her skin—because no one dies of old-aged skin. You can take care of it, so that it stays with you and looks good for as long as you want."
After successfully launching eraclea, the pair felt very lucky and blessed in their lives, and they began discussing what they could do to give back. They met Rod Rohrich, MD, while conducting research on the medical aspect of skin care at the University of Texas Southwestern Medical Center in Dallas. Hare and Denlinger quickly decided "he was the best doctor at the best university to work with," says Hare.
"We do research with Dr. Rohrich in the department of plastic surgery and also in radiation oncology. I had written to him and said that we wanted to do something to give back—something there's a great need for that no one's really talking about," recalls Hare. "He wrote back and said that up to 70% of the women who have mastectomies really don't know anything about reconstructive surgery and/or don't have the funds to pay for it."
The tie-in between breast cancer treatment and body image really struck a chord with both women, and in 2012—one year after launching eraclea—Hare, Denlinger and Dr. Rohrich founded the Alliance in Reconstructive Surgery (AiRS), a nonprofit foundation that gives women access to reconstructive breast surgery after mastectomy. "Everyone talks about prevention, but no one really talks about the aftermath of radiation, chemotherapy and mastectomy, and how you're feeling about your body," says Hare. "One woman summed it all up for me: She said, 'Before I had my reconstructive surgery, every day when I looked in the mirror I was reminded that I had breast cancer. After my reconstruction, I looked in the mirror and I thought I was beautiful.'"
Ten percent of all eraclea proceeds are donated to AiRS.
Laura Beliz is the associate editor of MedEsthetics.
Image courtesy of eraclea.