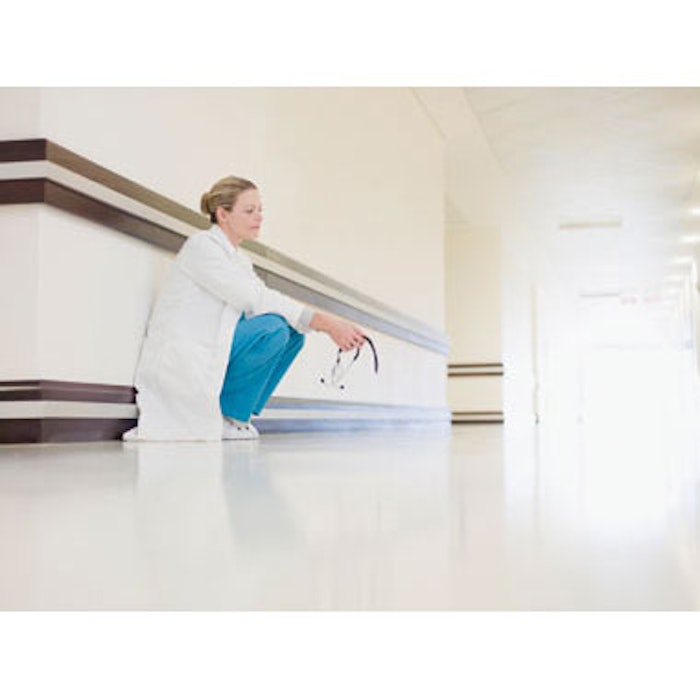 Years before he opened his successful, 40-person-staff private practice in Minnesota, Charles Crutchfield III, MD, experienced a challenging period that, if left unmanaged, could have ended his career in medicine. Practicing with a group of 14 other dermatologists, he had virtually no support staff and was becoming bogged down with mundane, repetitive tasks like filling out prescriptions and doing charts, in addition to seeing patients. It was affecting his morale and making him wonder if there was a better way.But then he had an epiphany. "Why don't I get someone else who could do the prescriptions, that can do the charting," he reasoned. "Let me see the patients." He left the group, opened his own private practice, and employed a support staff that he paid out of his own salary. "That changed my life, that absolutely changed my life," he says.
Dr. Crutchfield is a prime example of a physician whose critical decision to shift gears helped prevent more serious problems, like burnout, down the road.
Although it is not often discussed, burnout among aesthetic medical professionals is alarmingly commonplace. A recent study, published in the December 2013 edition of the Annals of Plastic Surgery, in which a self-administered survey was sent to 708 U.S.-based plastic surgeons, found that nearly one-third of plastic surgeons have signs of professional burnout. Physicians are more prone to burnout than any other professionals, and yet there are few tools available to help them understand what leads to burnout, how to prevent it, and how to cope with it.
Recognizing the Symptoms
According to the 2012 book High Octane Women: How Superachievers Can Avoid Burnout by Sherrie Bourg Carter, burnout is defined by a state of chronic stress and frustration that leads to:
physical and emotional exhaustion;        
feelings of cynicism and detachment; and
a sense of ineffectiveness and lack of accomplishment.
An immediate distinction must be made between stress and burnout. "Stress is usually due to temporary situations, which over time, will resolve," explains Carolyn Jacob, MD, founder and medical director of Chicago Cosmetic Surgery and Dermatology in Chicago.
Burnout, on the other hand, is a sign of "something much more ominous," says Elizabeth Tanzi, MD, co-director of Laser Surgery at the Washington Institute of Dermatologic Laser Surgery in Washington, DC. Both Dr. Tanzi and Dr. Jacob run successful, busy practices, and have experience in combatting stress. "Burnout means that you don't find any joy in what you're doing on a day-to-day basis," explains Dr. Tanzi. "That's a really big problem."
Burnout occurs when unmanaged daily stress accumulates to a level where the physician feels emotionally disconnected from his or her work and personal life, experiences chronic fatigue and illness, loss of appetite, increased anxiety and irritability, anger and isolation, or begins to abuse substances. If left unmonitored, burnout can have a catastrophic impact on not only the professional and personal life of the physician, but on the family and patients of the physician as well.
The family of professor Neil Cox, MD, knows this all too well. Dr. Cox was an acclaimed British dermatologist with a loving wife and two children. The recipient of several national awards, he was highly regarded for his research. But in September of 2010, Dr. Cox took a drive down a remote country road in the town of Cumbria, UK, where he lived, parked his car and took his own life. What came to light in the wake of the tragedy was that Dr. Cox was suffering from severe burnout. "He was totally spent by the time he came home," his wife told The Daily Mail. "He would sit exhausted on the sofa with a glass of wine, eat his supper and go to bed at 9:30pm most nights." Coupled with health problems, Dr. Cox's work pressures became unmanageable, and he lost his ability to cope.     
While Dr. Cox's case is a worst case scenario, the good news is that there are several daily habits and business practices that can help prevent burnout. If a physician is experiencing the symptoms of burnout, there are also tools available to help treat them, successfully.

Preventing Burnout
Since burnout is essentially the accumulation of unmanaged stress, the most important form of prevention is the daily banishing of stressors. Physicians need to be aware of what is causing them stress and then "zap it," as Dr. Crutchfield puts it. There are several ways to do this.
Hire a Support Staff. For high-functioning physicians, having the right team is critical in staving off fatigue, keeping them excited about their profession, and allowing time to unplug. "In your business, do only that which only you can do; if there's something that can be done by someone else, delegate it," says Dr. Crutchfield, who currently employs two personal assistants, in addition to his staff of nurses. The assistants help him with everything from keeping track of his appointments to picking up dry cleaning and getting his car washed. It may seem like an extravagance, but for Dr. Crutchfield that kind of help is indispensible. "It frees up so much time and allows me to do the really important things in life, and that's made such a big difference," he says.
He emphasizes that he still sees every one of the hundreds of patients that walk through his door, makes every diagnosis and comes up with every treatment plan, "but at that point, my support staff takes over," he says.            
Dr. Jacob has a personal assistant "who can act like a 'mini-me' for my general dermatology patients," she says. She also has a colleague who works with her four days a week "and does everything that I do, so I'm covered if I take some time off," she says.      
If there are tasks that you find monotonous and stress-inducing, delegate those tasks to an appropriate staff member or hire outside help. "It's not a cost; it's an investment in yourself and your family," says Dr. Crutchfield.
Don't Overschedule. "Having a realistic schedule is key to avoiding a lot of stress on a day-to-day basis," says Dr. Tanzi, who maintains automatic breaks in between patients at her practice, to make sure the staff is not being overscheduled.
Dr. Crutchfield works three full days and two half days in his practice, filling the rest of his schedule with teaching at a university and attending meetings.
While many private practice physicians feel compelled to fill their schedules in order to feed the bottom line, in the long run, reigning in your work hours will help you function better and increase overall job satisfaction by allowing you to take part in other activities.

Keep Learning. Aesthetic medicine is a dynamic and ever-changing field, but it is easy for long-time physicians on the cusp of burnout to feel unmotivated to learn. "You have to stay current with your field and continue to find new procedures, activities or treatments that stimulate your brain and make your job interesting," says Lorrie Klein, MD, president and medical director of OC Dermatology in Laguna Niguel, California.   
Keeping your fingers on the pulse of what's new not only elevates your skill level, but helps you stay excited about your field. "There are so many new devices and products that you constantly get to learn about," says Dr. Jacob.
Dr. Tanzi recommends attending meetings like the American Society for Dermatologic Surgery (ASDS) annual meeting, as well as the American Society for Laser Medicine and Surgery (ASLMS) annual meeting. "Those meetings are a great way to connect with your colleagues, and keep it fresh, and to learn about the latest and greatest things," she says. "You can't stop learning. Even the minor little tweaks that we're able to incorporate into our practice and get that much better patient satisfaction, where patients say, 'Wow! I love what you did last time; it was different, and I really liked it!' That makes them feel better, it makes me feel more excited about my job. It's a win-win situation for all."   
While some physicians may argue that attending meetings takes time away from the office, which could affect the bottom line, staying connected to what's happening in your field "really goes a long way towards overall job satisfaction," says Dr. Tanzi.
Vary Your Schedule. Doing the same thing every day can lead to feelings of stagnation and boredom, which could eventually culminate in burnout. "I think that's another key: to make sure you're doing different things," says Dr. Crutchfield, who in addition to his private practice, is also a clinical professor of dermatology at the University of Minnesota Medical School. "I also talk at different medical conferences all the time, and am a professor at Carlton College in the Biology department. You go to a college campus, that's a whole different feel. So by doing many different things, I'm never bored."
Stay Physically Active. When not lifting up her 10-month-old twins—"at 21 pounds each, it's an arm workout!" she says—Dr. Jacob likes to do pilates and run with her husband. 
When you engage in regular physical activity, you have the energy and resilience to manage the demands of your work. For Dr. Tanzi, who describes herself as an "avid exerciser," working out has proven to be "a great stress reliever that allows me to have enough energy to get through the day," she says. "I put on my workout DVDs, and that's it." She fits in some form of exercise up to five times a week, usually exercising at night.
Take Time Off. Getting away from your practice for short periods of time and experiencing other activities, whether it's family time or the pursuit of a hobby, can help reignite interest in one's work. "It's not just time off," says Dr Tanzi. "You really have to unplug." That means making clear to your staff and patients that you are on vacation and not available, and focusing your attention on "really connecting with something outside of dermatology," she says.
By taking quality, undisturbed time off, you make a long-term investment in the most important part of your practice: yourself. "The practice doesn't run without you, so if you're not investing in the one thing that's generating revenue, you have a problem," says Dr. Tanzi.         
She recommends letting patients know in advance that you will be taking time off, and that during this time, if they have any issues, there will be a staff member or a nurse who will be able to help them. "It sets boundaries that you will be on a family vacation, and that's the end of it," says Dr. Tanzi
Connect With Your Colleagues. Spending time with someone in your field and connecting on a personal level is important in preventing the feelings of isolation that are often associated with burnout.
Dr. Crutchfield has a group of five to six fellow dermatologists he meets with once a month. They watch movies, attend sporting events or take part in other group activities. "We hang out together, so I have a group that I can bounce things off of," says Dr. Crutchfield.
Keep Your Staff Happy. If a practice's staff is stressed and unhappy, it can create discord within the office and contribute to feelings of burnout. Therefore, it's important to try to create a positive work environment for your staff. Make sure they feel valued, have a voice, and are not overwhelmed. "The first patient encounter is with a staff member, so if the staff is not happy and enthusiastic about being there, then the patients are going to pick up on that, and it is not a good patient experience," says Dr. Tanzi. "The physician needs to be keenly aware of what's happening in the office and the morale of the office, and give the staff ample opportunity to discuss the problems they're having."
Dr. Crutchfield has a concierge service for his employees, which helps lower their stress. The concierge can pick up prescriptions, take employees' cars to be gassed up and detailed and drop off dry cleaning. He also keeps his pay rates at the top quarter in the industry.
In addition, his practice hosts regular events outside of the office for staff members to get together and have fun. These include Go-Kart races, bowling nights, sporting events and holiday parties. "As a result, Minneapolis Business Journal voted us one of the top 100 businesses in the state of Minnesota to work at," Dr. Crutchfield says. "So we've been recognized for providing our employees with an exemplary work experience, which reduces stress on them, creates better retention, and is just better for everyone."
Dr. Tanzi also organizes regular events for her entire staff. "It can be anything from going to an overnight retreat to something as fun and zany as going to a bowling alley," she says.

Treating Burnout
Burnout is a highly unpleasant, negative state, but it is not permanent. "The good news is that burnout isn't a terminal illness," writes Sherrie Carter in High Octane Women. She notes that you are still the same person as before burnout hit; the difference is that your drive and enthusiasm have become buried under piles of stress. Thus, the key to treating burnout is making significant and immediate changes in your lifestyle.
Scale Back Your Schedule. "The first thing I would recommend before throwing in the towel would be to think out the schedule and allow more time between patients," says Dr. Tanzi. "It takes the pressure off the physician from running from room to room; maybe allows them to talk to patients a little bit more."
Take Extended Time Off. Taking time off from work, anywhere from a few days to two weeks, can help physicians step back and get a clearer view of what is causing their dissatisfaction.
"During the time off, you can't do any work," writes Carter. "You can't take any work-related calls or respond to any work-related emails or texts. If your family is a source of stress, try to get away from them for the weekend. Basically, your job is to remove as many sources of stress from your life as possible and infuse as many stress-reducing elements (mostly in the form of rest) into your life for two and a half days." She advises stressed professionals to avoid activities that are physically and emotionally draining, get eight hours of sleep every night and eat three healthy meals a day.
Talk to a Professional. "Sometimes when you're in a deep rut, you can't see the forest from the trees," says Dr. Crutchfield, who sought professional help during some hardship in medical school. "I would never hesitate to talk to a counselor or psychologist or psychiatrist. If you're feeling down and out or pressured, talk to somebody—it will make a huge difference. Have no fear."
Stacy Gueraseva is the senior editor of MedEsthetics.
Image copyright istockphoto.com