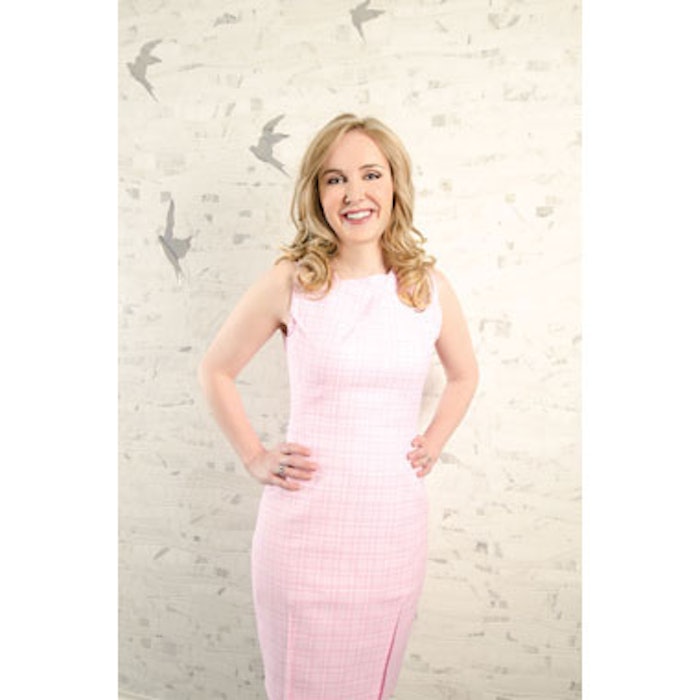 For anyone who knew Amy Derick, MD, as a child, it's no surprise that she wound up in the medical field as one of Illinois' leading dermatologists. In fact, one needs to only look at the framed photo of her and her grandmother—both wearing nurses outfits—that hangs in her home office. "I was just 5 years old in this picture," Dr. Derick says. "My grandmother was a nurse, and my mom encouraged me to go to the hospital to see what she was doing."
Dr. Derick grew up in Palatine, Illinois. Her mother was a teacher and her father was a salesman. In high school, she discovered a passion for science. "I got both of my parents' genes, which led me to medical school," she says. "I like the academic nature of medicine, but I also like dealing with people, so I thought a career as a physician would be a good mix of both."
Dr. Derick completed a pre-med program at the University of Notre Dame and graduated summa cum laude in only three years. She then attended the University of Chicago Pritzker School of Medicine, where she received her Doctor of Medicine degree, earning honors for being in the top 10% of her class.
"I did a dermatology rotation and absolutely loved it. You get to know your patients, but also you're doing procedures," says Dr. Derick. One of the key attractions was the diversity of sub-specialties available. "If you want to look at slides, you can focus on pathology. If you want to work with kids, you can focus on pediatric dermatology," she says. "I knew if I went this route, I would find something I liked to do."
After completing an internship at Northwestern Memorial Hospital and residency at the University of Chicago Hospitals, Dr. Derick found herself at a crossroads. Should she stay in academics or join a practice? Her husband Michael had another idea. "He encouraged me to go out on my own and start my own practice," she says. Though she worried about the financial risk of launching a new practice so early in her career, "I liked the idea of being able to make decisions on how to provide care for my patients and I liked the idea of going into this with my husband," she says.
Together, the two opened Derick Dermatology in Barrington, Illinois, in 2006, with Michael—who had been working at a hedge fund in Chicago—focusing on running the business so his wife could concentrate on patient care.
Photograph by Chris Bradley
[pagebreak]
Rapid Growth
In the beginning, the practice was seeing an average of six patients a day, and Dr. Derick admits it was sometimes difficult to keep their feet underneath them. But things quickly picked up.
In August 2012, Derick Dermatology opened a second location in Crystal Lake, Illinois, and is now preparing to open a third 15,000-square-foot office in Elgin, Illinois.
"These aren't rural areas. They are high population areas without a lot of dermatologists," Dr. Derick says. "Elgin, for example, is a middle class community of more than 100,000 people, but only a few dermatologists. When we opened the Crystal Lake location, it was to serve the needs of those in Northern Illinois and southern Wisconsin, and now we're completely booked."
Though the quick growth has been exciting, the transition from a small practice to a multi-location, multi-provider practice has been a challenge. "Not only am I a dermatologist, but I'm also a business owner," says Dr. Derick. "Finding time to do both is sometimes difficult."
The two practices currently boast 70 employees, and she expects to hire 30 more staff members before opening the third location. "It's been hard to do all the hiring and interviewing and training of new people," she says. "We're getting through it though and have been successful in recruiting good talent and getting them functional."
Derick Dermatology typically uses online job boards, such as Craig's List, to fill many support positions. In
new candidates, the company seeks smart, energetic professionals who operate well in a team environment. "We are willing to hire people with diverse professional backgrounds, even if they are relatively new to dermatology," she says. "We are mostly concerned with a candidate's potential."
Secrets of Success
When people ask Dr. Derick's advice about starting a practice, she responds with a simple question: "Do you like the business part of owning your own practice or do you just not want to be an employee of someone else?"
"If it's the latter, I think having your own practice will be a challenge," she says. "[As the owner of a practice], you have to deal with so many regulations related to privacy, computer security, labor. If you're not interested in managing all that, it will be hard to do well."
[pagebreak]
When she first started out, she received sound advice from a fellow dermatologist: When you start your own practice, the worst-case scenario is 50% of people will like you and 50% won't. The next year those who liked you will stay, and of the new people, another 50% will like you and now you have 75%. Over time, 99% will like you.
"Our main commitment is to heal people and prevent medical problems. We don't actively promote our cosmetic services, but cosmetic services have grown dramatically," she says. "We have 4,000 patients per month come through Derick Dermatology, and the flow of patients into both our medical and cosmetic sub-practices keeps us routinely booked."
First impressions are important. Thus, Dr. Derick chose to keep her reception areas and treatment rooms free of promotional brochures. The rooms are tranquil, neutral and elegant. The waiting room television is usually set to the food network. If a patient wants a diversion while waiting, he or she is handed a tablet on which the patient can play games or lean more about the practice and its offerings.
"Our growth of patients derives mostly from physician referral and word of mouth," Dr. Derick says. "We find if you routinely treat patients with respect and provide the best care, new patients find you. There are lots of opportunities to compromise high standards, but we won't do that. Ever. Patients should trust that we don't push products or procedures. We educate patients, and they decide what is best for them."
This strategy has allowed Dr. Derick and her fellow providers to build stronger relationships with their patients. "They trust our advice," she says. "I will send them to a competitor without hesitation if there's a laser they need or procedure they need [that I don't offer]. My practice is relationship-focused, so I always think of my patients and their long-term needs."
Dr. Derick is currently president of the Illinois Dermatological Society, and she spends much time dealing with legislation that affects her practice and patients. She's also active in the dermatological community, volunteering hundreds of hours each year in support of non-profit organizations and initiatives, including library talks and free skin cancer screenings held at regional hospitals.
[pagebreak]
"We private dermatologists are fortunate, because we are able to work directly with patients who have insurance or can afford to pay, but some patients are not able to afford dermatologic care, so at least once a year we do free skin cancer screenings for hospitals," she says. "These patients take the initiative to seek us out, and they may not be able to afford the price of an office visit, but we can provide them with good advice."
As part of her commitment to raise awareness about skin health through traditional and new media platforms, she has developed a web-based video series that educates patients about dermatologic issues. She serves as a media resource covering a wide range of topics for the American Academy of Dermatology and the Women's Dermatologic Society and has been featured in numerous broadcasts and publications.
She is also on the medical alumni board and university alumni board at the University of Chicago and is a clinical instructor of dermatology at Northwestern University's Feinberg School of Medicine.
"Not a single day goes by when I am not trying to fix something or change something for the better," she says. "It will never be perfect because there's always something else to improve, and I strive for the best."
Her grandmother would be proud.
Keith Loria is a freelance writer based in Oakton, Virginia.