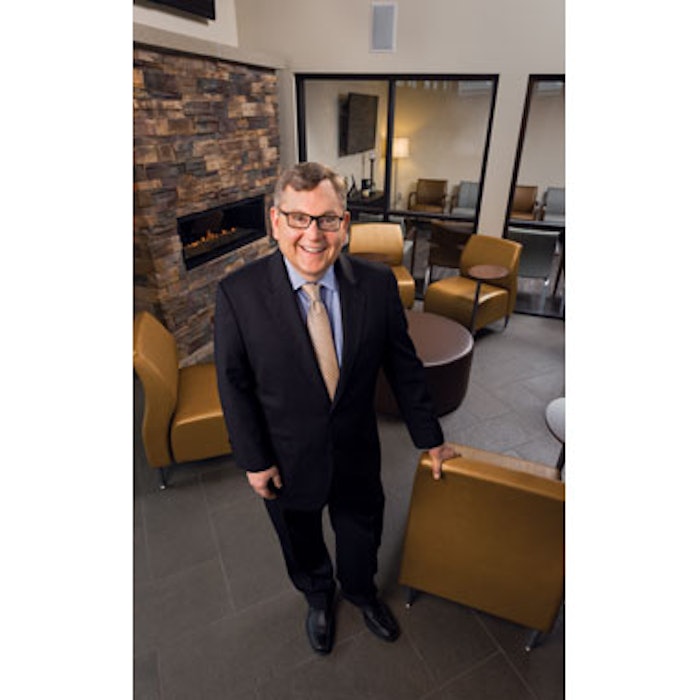 Wm. Philip Werschler, MD, FAAD, FAACS, is one of the most recognizable physicians in the field of cosmetic dermatology. If you attend scientific meetings and stay up to date with the medical aesthetics industry, you are likely familiar with his name. As the son of a WWII veteran turned mail carrier and a housekeeper, Dr. Werschler knew he wanted to pursue a practical career. It was an early interest in science and an ongoing struggle with acne in his teen years that put him on the path to medicine. "I had acne as a teenager and had really connected with my dermatologist over the years," he says. "When I went to college, I thought that being pre-med would be the best way to combine my interest in science with a practical career option."
By the time he reached his final year at the George Washington University Medical Center in Washington, D.C., he knew that dermatology was where he wanted to be. "We see kids, seniors, men and women, and we see people with all kinds of concerns," he says. "I think dermatology is fascinating in that way, and this was before there was much in the way of cosmetic dermatology."
The Birth of Cosmetic Dermatology
After graduating medical school in 1985, Dr. Werschler completed his preliminary residency training in internal medicine at the University of Arizona, then returned to George Washington University for his dermatology fellowship. At this point in the mid-1980s, cosmetic dermatology was still in its infancy. Dermatology itself was essentially a sub-specialty of internal medicine, says Dr. Werschler.
"The only filler available was collagen—there was no Botox. Not many people did collagen: It didn't last very long, it was expensive and results were not great," he says. "Then the first pulse-dye lasers came out—we were fortunate enough to have one of those lasers at George Washington, and it was huge, like the original computers. It was very slow and cantankerous, and it would break a lot. But it worked."
Though it was gaining momentum, the future of cosmetic dermatology was still unclear, and Dr. Werschler credits the chairman of the dermatology department at the time, Mervyn L. Elgart, MD, for insisting that his residents be trained in the new procedures. "I was fortunate enough to be in an institution with the visionary Dr. Elgart. He said, 'I think cosmetic dermatology is going to be a big deal, and I want my residents to be exposed to it,'" says Dr. Werschler. "So as residents we were trained in lasers, collagen, hair transplants, dermabrasion and the very first inklings of Retin-A as a wrinkle cream. This was when cosmetic dermatology was born."
Entering Private Practice
After completing his residency, Dr. Werschler followed a traditional career path for dermatologists at the time: He went into practice with an older doctor who was gearing up for retirement.
"The traditional route was to join someone in the second half of their career," he says. "Five to ten years later they'd retire or slow down and you'd take over, and then five or ten years after that you'd bring somebody else in. That's exactly what I did."
Photo courtesy of J. Craig Sweat.
[pagebreak]
When he graduated in the early 1990s, he joined Michael Ryan, MD's dermatology practice in Spokane, Washington; a few years later when Dr. Ryan was ready to retire, Dr. Werschler bought him out. Having spent some of his final year of training at the National Institute of Health (NIH) doing clinical trials on products such as Accutane and Fibrel, Dr. Werschler was eager to perform research at his own practice.
"I started doing clinical trials right away, because I had contacts, knowledge and experience," he says. "I was one of the original core group of 12 who investigated botulinum toxin. We were a trial site for the original glabellar line study in the 1990s, and it got approved in 2002 for cosmetic use. It was a watershed moment in cosmetic dermatology and for practices that wanted to become aesthetic practices."
Since then, Dr. Werschler has participated in countless trials on a variety of treatments and procedures, including lasers, fillers and biologics. As a primary investigator for the U.S. Food and Drug Administration (FDA), finding new modalities and protocols that improve patients' lives is what fuels his enthusiasm for research. "Look at biologics and psoriasis. People have taken their own lives because of psoriasis and the horrible symptoms. Now they can apply a biologic and be 99% clear—and happy," he says. "Clinical trials are how we get better at doing what we do."
Dr. Werschler also notes that drug trials in particular help him stay up to date on many other aspects of medicine. "I am a much better physician for doing trials, and I'm also a much better dermatologist—it's made me a more effective healer overall," he says.
Launching a New Facility
Dr. Werschler was one of the first dermatologists to advocate bringing nonmedical providers such as estheticians into dermatology practices. In October 2014, he moved his original practice to a new facility. The main building, Spokane Dermatology Clinic, includes space for clinical research, a direct primary care practice, an ambulatory surgical center and a plastic surgery office in addition to his clinical dermatology practice. Next door, the 3,000-square-foot Werschler Aesthetics cosmetic center offers laser treatments, dermal fillers and neurotoxins, a skin bar, and makeup and skincare services.
The primary reason for the move was a lack of available space in his existing facility, located within the Providence Sacred Heart Medical Center. "We had grown over the years, and we wound up in five or six different, non-contiguous office spaces—we had offices on different floors in two different buildings," he says. "We were literally running up and down the stairs and back and forth between buildings multiple times a day; that's not very efficient. We just needed a larger and contiguous space to do the things we needed to do."
Dr. Werschler also wanted to own a space that he could remodel and customize to suit the practice's specific needs. "We created an observation room with a one-way mirror to do clinical trials, some of which last for a long time. It's like a big rec room in a way, with a refreshment bar and a couple of flat screen TVs," he says. "We did a PK study on an acne drug here, where a bunch of young people had to spend some 14 hours here. They really enjoyed the place, and the one-way observation allowed us to keep an eye on them without necessarily sitting in there."
Photo courtesy of J. Craig Sweat.
[pagebreak]
Such purpose-built features are what make the new facility "a modern office building that leans towards cosmetic and research services," he says.
It can be challenging to oversee such a large facility with so many moving parts. Dr. Werschler attributes Spokane Dermatology's continued success to his expert multitasking skills and a management style he adopted from Ronald Reagan. He often looks to a specific quote credited to the former U.S. President, "Surround yourself with the best people you can find, delegate authority and don't interfere as long as the policy you've decided upon is being carried out."
Know Your Patients, Know Yourself
Offering such a wide range of services requires Spokane Dermatology Clinic and Werschler Aesthetics to take multiple marketing approaches. "On the research side, we use radio and television ads—everyone has seen these ads that say, 'Have you been diagnosed with X? There's an investigational new drug, call this number,'" he says. "For cosmetic services, on the other hand, we embed videos, run specials and use social media."
He employs a marketing staff that creates and designs ads and promotions, and a social media team that posts, tracks and maintains the practice's Facebook, Twitter and YouTube accounts. As with most cosmetic practices, internal marketing is key. "In the aesthetic world, you're better off with internal advertising efforts than you are with larger scale external ads—your aesthetic patient population is a very valuable asset," says Dr. Werschler. "We aim all kinds of ads—winter and holiday specials, videos and promos—specifically at our established elective cosmetic patient base."
He emphasizes that, especially for new physicians, it's important to know yourself in addition to your patient base. "One of the first decisions a practice must make is what kind of practice it will be in terms of marketing and advertising," says Dr. Werschler. "Going forward, you promote based on what line of business you want to increase. If, for example, it's more of a medical dermatology practice, you're going to want referrals from family medicine, internal medicine and various colleagues; that wouldn't work for a cosmetic office."
On the other hand, a skin cancer clinic that's also cosmetic can focus on that blend by talking about repairing sun damage, preventing cancer and enhancing patients' appearances, he says.
"One of the classic mistakes that people make in terms of promotional activities is that they tend to 'shotgun' it—they advertise all kinds of things at once instead of really focusing on a specific campaign," says Dr. Werschler. "Instead of marketing the entire practice, focus on marketing a specific service as a feature-benefit thing. We say, 'This is our resource, and these are our capabilities with that resource.' I think there is a benefit to that, and it helps to frame your identity."
That kind of focus and dedication has afforded Dr. Werschler and his practice the ability to tackle a variety of services, treatments and projects. "I have the best of all worlds—one day I might be doing clinical research, the next day I might be doing a general medical dermatology clinic, Mohs surgery or teaching," he says. "Variety is the spice of life. I'm really fortunate to have the opportunity to be able to do that. I enjoy it very much."
Laura Beliz is the associate editor of MedEsthetics.
Photo courtesy of J. Craig Sweat.