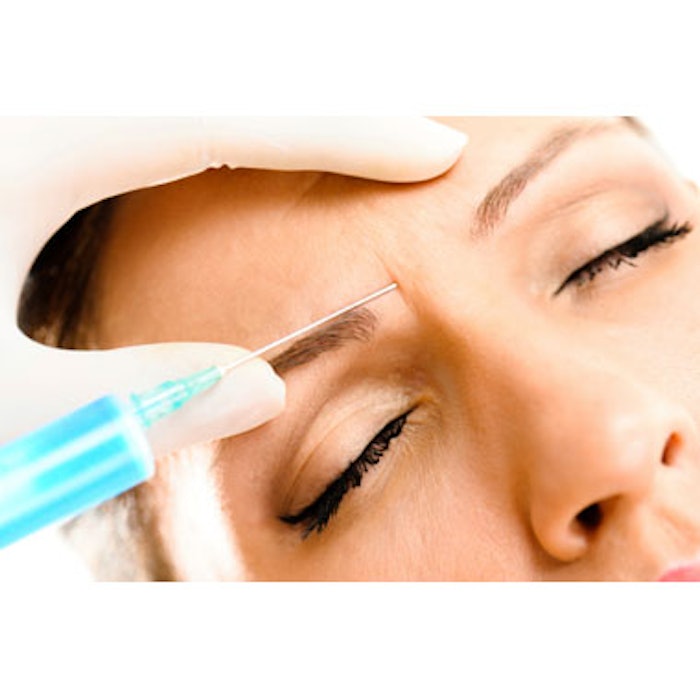 Revance Therapeutics has announced positive 24-week results from its multicenter BELMONT Phase 2 active comparator study of injectable RT002 for the treatment of glabellar lines. RT002 is an injectable botulinum toxin type A investigational drug. The ongoing study has enrolled 268 subjects to compare the safety, efficacy and duration of effect of three doses of RT002 against placebo and current market leader, Botox Cosmetic (Allergan).
Interim data showed that RT002 achieved its primary efficacy measurement for all three doses at four weeks and demonstrated a six-month median duration of effect, based upon at least one-point improvement in glabellar lines at maximum frown on the Investigator Global Assessment-Facial Wrinkle Severity (IGA-FWS) scale. All doses of RT002 achieved a 100% response rate of at least one-point improvement in frown lines, at four weeks vs. a 95% response rate for Botox Cosmetic. RT002 40U was statistically significant to Botox Cosmetic on all three responder definitions for the IGA-FWS median duration of effect. On the IGA-FWS duration of response, RT002 demonstrated a 23.6-week median duration vs. Botox Cosmetic with an 18.8-week median duration (p = 0.020). More than twice as many RT002 40U and 60U subjects in the study maintained none or mild wrinkles on the IGA-FWS scale as compared to Botox Cosmetic at 16 weeks (p ≤ 0.002).
Adverse events were generally mild, localized and transient. For RT002 20U and 40U, no subjects experienced ptosis. There were no serious adverse events or evidence of any systemic exposure at any of the three doses evaluated.
"The BELMONT study, using some of the top botulinum toxin injectors, was designed to further demonstrate the effectiveness and duration of RT002 versus BOTOX Cosmetic, the current market leader. The interim results are compelling," said Dan Browne, president and CEO at Revance. "The results clearly support that 40U is the right dose to take forward. We plan to report BELMONT's final study results and to conduct an End-of-Phase 2 meeting with the FDA in the first half of next year. We expect to begin Phase 3 clinical studies in the second half of 2016. Assuming the duration observed in our Phase 3 studies is consistent with the results reported today, we believe the collective data should support a six-month duration label."
Photo copyright Getty Images.