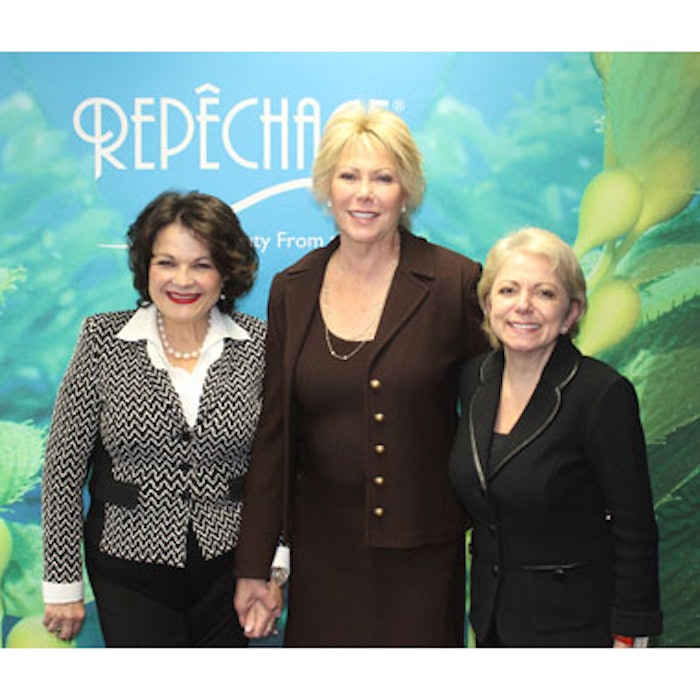 Skincare manufacturer Repêchage hosted its annual networking Champagne Power Lunch at the Repêchage Headquarters in Secaucus, New Jersey, to offer inspiration and insights into upcoming trends for 2016. Guest speakers included Deborah Carver, founder and CEO of Creative Age Publications (publisher of MedEsthetics magazine) and Dori Soukup, founder and CEO of InSPAration Management. Beauty professionals attended from the U.S. and all around the world attended the event, including Joel Gerson, author of Milady's Standard Esthetics: Fundamentals, and Lois Christie, president of Intercoiffure America/Canada.
In addition to spa business presentations from industry experts, guests were treated to a brunch and holiday shopping event, featuring a variety of Repêchage holiday gift sets.
Carver's presentation, "Consumer Trends in Beauty and Spa," highlighted the need for salons and spas to focus on catering to millennials, who are currently projected to take over baby boomers as the largest population in the U.S. She offered attendees advice on how they can win millennials as clients and capture a market that "represents the future." Soukup's "Economical Marketing Strategies" offered advice and tips on leading traffic to your spa and maximizing capacity in a cost-effective way. She provided proven strategies for creating promotional marketing tools; utilizing social media, Internet and in-spa marketing; and taking advantage of spa events.
Sarfati took the stage for "Beauty Trends and Creating the Ultimate Service Experience," in which she discussed trends for 2016, recent fads in skin care and how effective these new treatments/products are for the skin. Trends for 2016, according to Sarfati, include: facials, multi-layering treatments, pore cleansing, medical alliances, custom body treatments, specialty products, advanced waxing formulations and treatments, hypersensitive skin care, environmental protection and digital marketing. She stressed the importance of connecting with clients and creating a service-oriented experience by catering to the VIP in everyone, accommodating every client and being personable.
As education is at the core of Sarfati's values, Repêchage will continue providing educational opportunities for beauty professionals, including the upcoming Repêchage Annual International Conference event, which will be held on May 2, 2016. For more information, visit www.repechage.com.
Photo courtesy of Repêchage.