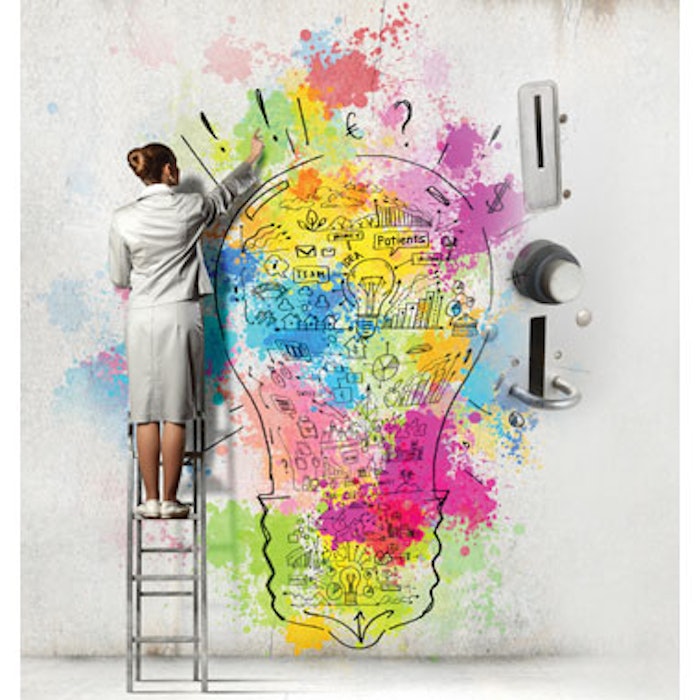 Aesthetic medicine has long been on the forefront of patient engagement—a concept now being embraced by the wider healthcare community. For years, medspas and cosmetic practices have used monthly newsletters, appointment reminders, follow-up thank you notes and social media to engage both existing and prospective patients—and software developers have taken note. Electronic health record (EHR) and practice management (PM) systems now include a variety of tools to help you track patient engagement and automate your communications. In addition, a growing number of third-party software providers have introduced additional tools that can be integrated with your existing EHR and PM systems. The only thing practices need to do is determine which communication efforts offer the most benefits—and are the best fit for their culture.
"Plastic surgeons kind of invented patient engagement," says Andrew Rosenthal, MD, a plastic surgeon in Boynton Beach and Boca Raton, Florida, and medical director of plastic surgery for electronic health record provider Modernizing Medicine. "We want patients to interact with and be drawn to our practices. It started with sending monthly newsletters to everyone and now has become more and more refined."
Targeted Marketing Tools
One of the key marketing benefits of incorporating electronic health records (EHR) and practice management (PM) software programs is they allow you to identify the demographics of your existing patient base and see which products and procedures they are purchasing. "The first step in creating a more loyal client base and attracting new patients is utilizing your software to track procedures and purchases," says Alisha Rose Merlo, senior marketing director for ShoutMD and ShoutStore, part of ALPHAEON Corporation. "Virtually all EHR and PM systems allow you to run reports to see what patients are doing within your practice. This information helps you create more targeted marketing campaigns, and select products and equipment that will help you better serve your target base."
These reports allow you to search your records through a variety of metrics, including procedures performed, date of most recent visit and—in more advanced systems—by patient interest or concern.
"Modernizing Medicine is in the process of launching ModMed Analytics, which allows you to analyze the structured data that you have within your EHR," says Dr. Rosenthal. "You'll be able to comb down and say, for example, 'Who did I see in the past six months who is female, and had Botox and filler?' 'Who came in for a facelift consult, but only had Botox?' This data can then be used to create very targeted email messages."
Plastic surgeon Gregory A. Buford, MD, of Beauty by Buford in Englewood, Colorado, has moved increasingly toward targeted content marketing in his practice and has found that taking the time to identify specific subsets of patients and craft content that speaks directly to their concerns pays dividends. "The most important thing with any outreach campaign is to identify who you want to reach. Without that, you're just throwing information out there blindly," he says. "You need to know the age of the person you are speaking to, their gender, their ethnicity or range of ethnicities, their education level and what they want. Once you understand these things, you can identify a specific voice that speaks to them directly, and this is really critical."
Once you run your reports and identify specific groups you'd like to target, your PM system—either out of the box or through customized add-ons—can be used to automatically send out targeted email blasts. Some systems allow you to load multiple email campaigns in advance, select a target group of patients from your EHR, and then pick a date on which each campaign will automatically mail out to those select patients.
Photo copyright Getty Images.
[pagebreak]
If your system does not currently offer these tools, you can use the calendar function to set up reminders for staff, suggests Merlo. "You can create a trigger notification within your system to automatically blast out an email or a calendar notification for staff to alert them when it's time to reach out to a specific patient group," she says.
Using an automated email marketing program offers the added benefit of tracking. Throughout the year, you can run reports to see which email campaigns were most successful in terms of both open rates and bookings. It can even help you refine your campaigns further by showing on which days and times patients are most likely to read your communications.
Streamlining Basic Functions
In addition to helping you create and maintain more targeted marketing efforts, your PM software can also help you automate day-to-day functions, such as booking and appointment reminders. "Previously, we would have a staff member call all clients 24 hours ahead of their appointments to remind them and confirm the appointment. Now, we can send text or email reminders, which saves a lot of time and is just as effective as calling," says Sarah Stein, office manager at M.D. Laser Studio in Mooresville, North Carolina.
The medspa, which recently incorporated the MDware practice management system, asks its clients their preferred method of communication on its patient intake forms, which includes permission to contact them by email or text.
In addition to automating appointment reminders, practice management software can be used to follow up with patients who are due for their next neuromodulator or filler appointment, or homecare product refill. "If you have patients who come in for neuromodulators, then you would set your automated reminders to go out every four months, for example," says Merlo. "You can also do this for dermal fillers or even skincare purchases. You can set the software to look at when the patient will need to replenish their skincare product based on date of purchase and usage instructions. The system then automatically sends out an email reminder when it's time to refill."
To streamline this process further, M.D. Laser Studio plans to add online booking. "So when we send clients a reminder that it's time to book a follow-up appointment, there will be a link they can click on right then and there to view available time slots and book the appointment," says Stein.
When adding online booking, practices have two options. "With online booking, there is a link on the website that goes directly to the practice management software. The practice can choose whether to have those appointments put directly into its appointment book—and the patient just shows up—or they can set it up as an appointment request that is then reviewed and confirmed by staff before actually adding the patient to the schedule," says Kelly Rajkumar, marketing manager at MDware.
Tracking and Rewarding Loyalty
Loyalty programs that reward repeat customers have become common in a huge variety of industries, including medical aesthetics. With increased automation, the punch cards of old have given way to software tools that track sales and allot rewards based on preset parameters. Practice management software and third-party vendors, such as Solutionreach, allow you to create point-based loyalty systems that can be customized by the practice. "Each treatment is assigned a point value—e.g., Botox is 50 points and a facial is 20 points—and the practice determines the reward system. So at 200 points or 500 points, the client receives a free treatment or discount on a service, and the software tracks the points for you," says Rajkumar.
Photo copyright Getty Images.
[pagebreak]
Some systems also allow you to track patient referrals. A staff member would first ask how the new patient heard about the practice and then the program would track those answers, and alert the practice when a patient has earned their gift card or discount based on the number of referrals. "Referrals are the holy grail of aesthetics, because word of mouth is so important to practice growth," says Merlo. "But when you talk about referrals and rewards, you have to be mindful of state and medical society regulations regarding kickbacks and monetizing referrals. These programs are not legal in many states and violate the bylaws of some medical societies."
If your state or professional association discourages referral rewards, Merlo recommends keeping track of your top referrers and engaging them as practice ambassadors. "You can run a report to see who your top referrers are and establish a VIP list of your best practice ambassadors and create unique experiences," says Merlo. "Maybe you have a VIP dinner or lunch and use that as a focus group for practice feedback."
Dr. Buford has moved away from point-based loyalty programs, though he does track and reward repeat patients. "I don't like loyalty programs because they aren't very exciting," he says. "I like surprising our VIP patients with a free service. At the end of treatment, I say, 'We appreciate your support; Botox is on me today.' We end up spending less than we would with a loyalty program, and patients are blown away because they're not expecting it."
Advanced Marketing Tools
Tracking patient procedures and product purchases allows you to create more targeted marketing campaigns and recognize your most loyal patrons, but some EHR and practice management systems can help you go one step further by tracking patients' aesthetic interests and concerns. "When the patient comes in, you can have them fill out an 'interest questionnaire' that allows them to self-identify everything they'd like to change or enhance about themselves," says Merlo. "Some systems allow you to hand patients a tablet that has a questionnaire with a face on it. They can choose certain areas and highlight concerns, then that information is tracked through the system."
Once you have addressed the primary concern that brought the patient to your practice, you can use the information stored from the interest questionnaire to send out targeted marketing email blasts.
"This may not be an 'out of the box' function available from your practice management system, but it is a customization you can add to many of them, including Nextech and PatientNOW," says Merlo. "Both companies have forms where you can enter what the patient came in for and then create a table within the system where you enter other procedures in which the patient expressed interest. Then you can pull reports based on those tables."
Matthew J. Elias, MD, of Elias Dermatology in Fort Lauderdale, Florida, recently began working with a company called PatientPop that offers a variety of automated tools all centered around the practice website. "It hooks in with more than 70 local search engines and web queries to optimize your profile, so you show up first in Google and Bing," he says. "Patients can book appointments through the website it builds for your practice. PatientPop reminds them of their appointments, prompts them for reviews after their appointments; and allows you to send ad campaigns to your mailing list through them."
Photo copyright Getty Images.
[pagebreak]
Considerations
As you begin to integrate the growing number of automated patient engagement tools available, there are a few important considerations. One is permission. Before adding a new patient to your mailing list or loyalty program, you must get permission to contact them by email or text message. "It is important to document that they have opted in to receive communications," says Merlo. "Usually this is part of the initial paperwork. It says, 'I give permission for you to send periodic emails or updates.' If you're using text messaging, they need to opt in to that also. If you offer a newsletter signup or online booking on your website, the lead capture forms should include a check box that says, 'I agree to receive communications' as part of the terms of services."
In order to avoid inundating patients with practice communication, keep track of the frequency—and any overlap of campaigns. Dr. Buford limits email communication to once a month. "My personal opinion is that more than monthly looks desperate," he says. "If there's any kind of breaking news, we might send out an additional email but we also have social media to communicate with patients—and that's more our breaking news outlet."
When following up with patients who came in for a consult but did not book an appointment, Merlo recommends limiting follow-up to three contacts. "Right after the consult, send out a personalized email," she says. "One week later, send out a content-rich newsletter and then one month after that, send a 'Thinking about you' note. You can keep them in your database to receive your monthly newsletter and event invites."
Successfully utilizing your EHR, practice management or third-party vendor services for automated communications also requires updated contact information, so it's important to look at ease of use when selecting providers to ensure your staff utilizes all available features. Practices should also create a protocol that encourages staff to regularly update patient files, including contact information and preferred means of communication at each appointment.
"We ask patients to log into their patient portal and make sure their information is current before each visit. Then a staff member double checks the information when they come into the office, because it is a garbage in, garbage out situation," says Dr. Rosenthal. "If you don't get good information, then you're not going to get good output. Document patient visits well, know what you talked about with them, know who you want to target with your marketing efforts and make sure the information is current."
Inga Hansen is the executive editor of MedEsthetics.
Photo copyright Getty Images.