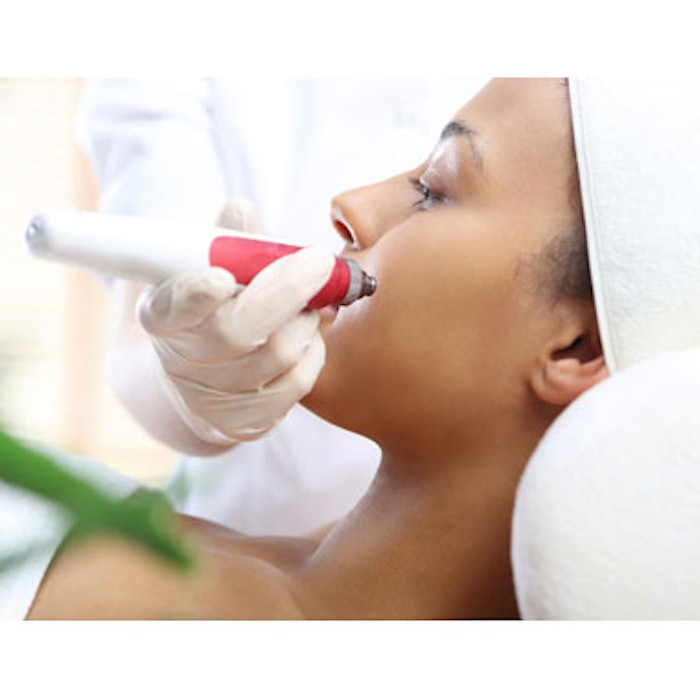 Practitioners should be aware that electric microneedling device length settings do not always correspond to actual depth of penetration. For "Micro-Needling Depth Penetration, Presence of Pigment Particles, and Fluorescein-Stained Platelets: Clinical Usage for Aesthetic Concerns" (Aesthetic Surgery Journal, January 2017), Gordon H. Sasaki, MD, used excised, microneedled pre-auricular skin to determine actual depths of tissue penetration with six needle lengths. He found that actual needle penetration closely matched device settings up to 1.0mm, but were less consistent at settings from 1.5mm to 2.5mm.
A second goal of the study was to determine the safety and efficacy of microneedling for aesthetic concerns, including scars, alopecia, wrinkles and skin laxity. Patients treated with topical cosmeceuticals and electric microneedling at 0.25mm to 1.0mm depth in a medspa setting, as well those treated with platelet-rich plasma and microneedling at 0.25mm to 2.5mm in a surgical center demonstrated statistically significant improvements in wrinkles, skin laxity, scar softening and hair growth at 12 months (based on both patient and observer satisfaction scores). The average hair count in a 10mm spot size increased from 88.3 ± 22.5 at baseline to 133.6 ± 13.8. All patients experienced minimal side effects.
Photo copyright Getty Images.