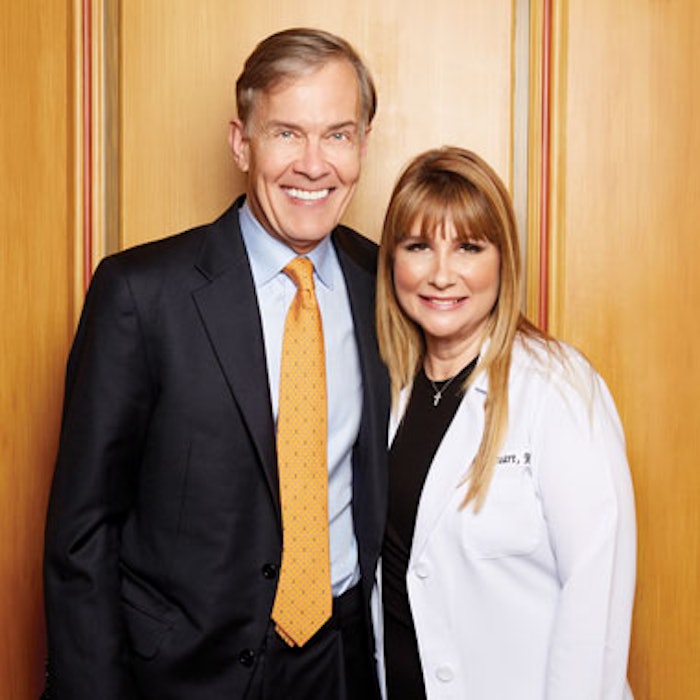 What happens when a couple in love goes into business together? For dermatologist Susan Stuart, MD, and her husband, plastic surgeon Richard Chaffoo, MD, the answer is happy patients and private practice success.
In 2005, the two launched La Jolla Skin Plastic Surgery and Cosmetic Dermatology in La Jolla, California, with the goal of providing a comprehensive approach to cosmetic enhancement. "We share a passion for medicine and people. Because our two specialties are complementary, we felt our synergy would benefit patients," says Dr. Stuart. "We discuss challenging cases and use our individual perspectives and strengths to create solutions."
For example, a patient concerned with facial aging made an appointment to learn more about Botox and dermal fillers. Dr. Stuart felt that she needed a facelift to achieve the results she was seeking, so she asked Dr. Chaffoo to step in. He examined the patient and agreed that surgery was the best option to address her aging features. A few weeks later he performed the surgery.
"When I saw her recently for Botox she thanked me for my honesty and referral for plastic surgery," Dr. Stuart says. "If she had gone to another dermatology practice I'm certain the outcome would have been much different; physicians sometimes are reluctant to refer patients outside of their practice for several reasons, many of which are financially driven."
The Road to Dermatology
Dr. Stuart's career spans more than 20 years. "I first became fascinated by dermatology when I was a swim instructor and lifeguard as a teenager. The job taught me not only what the sun could do to the skin, but also how I could make a positive impact on people's lives just by educating them about sun protection and healthy living," says Dr. Stuart. "Helping others achieve better health through swimming instruction, and even improved self-esteem, fueled my decision to become a doctor."
After receiving her medical degree from Tulane University School of Medicine in New Orleans, she completed a fellowship in pediatric dermatology at Stanford University and her dermatology residency at the prestigious Emory University School of Medicine in Atlanta.
One of her early mentors was Nia Terezakis, MD. "I met her when I was a student at Tulane University School of Medicine in New Orleans. As a woman and an accomplished dermatologist, Dr. Terezakis epitomized the ideal physician for me: innovator, scientist and artist," recalls Dr. Stuart. "I was also influenced by Ira Greene, MD, who was a dermatologist on the faculty at Stanford while I was a medical student. He was extremely encouraging and supportive of me."
Following residency, she joined Dermatology Associates in San Diego, a group practice founded by Richard Fitzpatrick, MD, that included 10 other dermatologists. This was in 1994, and the practice was already incorporating a number of laser procedures as well as sclerotherapy treatments. Some of her colleagues were early adopters and researchers in the use of CO2 lasers for skin resurfacing. This helped put Dr. Stuart on the cutting edge of aesthetic dermatology care, which led to a variety of media appearances, including guest spots on ABC News and 20/20.
Image: Getty Images.
[pagebreak]
After dividing her time between medical and cosmetic dermatology for more than a decade, Dr. Stuart decided to focus exclusively on the type of work she loved most: aesthetics. "I was drawn to private practice ownership as it allowed me to create a patient-centered practice where I can evaluate and treat each patient based upon my own high standards with a focus on a personalized approach," she says. "This cannot always be accomplished within an institutional setting where patient relationships are not the priority. I am really a people person at heart. That's what drove me to medicine in the first place.
"Working with Dermatology Associates, which is also where I met my husband Richard, prepared me to meet the demands of San Diego County's high-end clientele," continues Dr. Stuart. "Understanding their needs and thriving on the relationships I've built with my patients has helped me to maintain a successful practice in La Jolla's competitive cosmetic dermatology market."
A United Office
La Jolla Skin is one of only a handful of practices nationwide that is run by a triple board-certified plastic surgeon and board-certified dermatologist husband and wife team. This breadth of knowledge and expertise has been a big selling point for the couple.
"It is really a one-stop shop where all of your aesthetic concerns can be addressed," says Dr. Stuart. "While there are other group practices that include dermatologists and plastic surgeons, the doctors often compete for patients. As a 'family' type of practice, there is no financial pressure to retain our own patients. We can deliver the treatments best suited for each patient based upon sound medical principles and their unique concerns."
The practice includes a plastic surgery center, cosmetic dermatology center, and the Hair Surgery Center at La Jolla Skin (also called the "Man Cave"). Two certified Cool-Sculpting (Zeltiq) specialists perform cryolipolysis treatments within the dermatology center.
"Both our hair restoration surgery center and Cool-Sculpting rooms are areas of our practice that demonstrate our commitment to embracing the newest technologies that benefit our patients," says Dr. Stuart. "We spare no expense if we see something that can make a difference for them—it is the hallmark of our practice."
The majority of the practice's patients come through referrals made by other patients or healthcare providers in the area. The husband and wife team have been featured in national publications like Cosmopolitan, Town & Country, Vogue and Allure, and have received local awards from the San Diego Union Tribune, La Jolla Light and Ranch & Coast Magazine.
"Other patients discover us through our website," says Dr. Stuart. "Plus, we were both selected as Castle Connolly top doctors in our specialties, an honor bestowed upon the top 5% of physicians nationwide and voted upon by our peers."
Dr. Stuart also promotes the practice through local tele­vision spots in which she talks about both clinical and cosmetic dermatology, and she works as a voluntary clinical professor with the University of California, San Diego, division of dermatology.
Image: Getty Images.
[pagebreak]
The reception area of La Jolla Skin features large-screen TVs that showcase important healthcare topics discussed by Dr. Chaffoo, who is the Fox 5 health reporter. The practice includes a private entrance and exit for celebrities and media personalities who desire to keep a low profile, and refreshments and snacks are available for all patients and their accompanying family and friends.
"We have a very close-knit staff who have been with us for many years. Our goal is to make patients feel welcome and provide the best care," says Dr. Stuart. "We have weekly wraparound meetings where we discuss each upcoming case to make sure all issues are addressed and treatment plans are fully implemented. We have frequent staff meetings where everyone is asked to provide input on how we can improve the patient experience."
The couple also hosts regular team-building retreats for staff members, the most recent of which was an afternoon of competitive bowling in a trendy downtown bowling and restaurant venue.
Family Time
With six children, Drs. Stuart and Chaffoo have an equally busy life outside of the office. They often combine family time with professional education by taking everyone to aesthetic conferences at resort locations.
"It is always inspiring to attend professional meetings and interact with colleagues," says Dr. Stuart. "In the past, I have spoken at the Hawaii Dermatology Annual Meeting in Maui, the American Academy of Dermatology Annual Meeting and the Society for Investigative Dermatology Annual Meeting. In addition to educating others, I want to educate myself. This helps me stay up to date on what I can offer my patients, particularly in the area of nonsurgical procedures that offer instant gratification."
She and her twin daughters also participate in philanthropic projects through the National Charity League. "We enjoy serving Meals On Wheels to the elderly and disabled, and helping at nursing home events," she says.
Dr. Stuart's goals for the future are to "continue offering all our patients the latest cutting-edge—and evidence-based—noninvasive and minimally invasive aesthetic treatments. We are not afraid to invest in technology that offers our patients better outcomes," she says.
Keith Loria is a freelance writer based in Oaktown, VA.
Image: Getty Images.