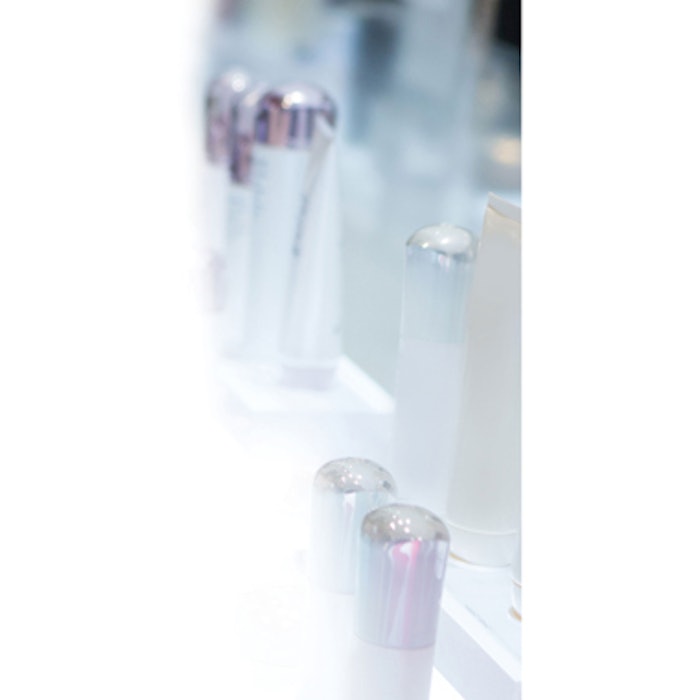 Selling skincare and other products that appeal to your patient base can be an additional revenue stream for your medspa or practice. But for more money to flow in, you'll need to sell quality merchandise, display products attractively and properly promote them.
Michael Lin, MD, offers products that complement the procedures he provides and the medical conditions that he treats at his practice, Advanced Dermatology and Skin Cancer Institute, which has four locations throughout Southern California.
"At-home products can enhance in-office treatments," he says. "Also, it is convenient [for my patients] to have them available here. I've found that by providing the products, patients are more compliant with treatment plans, and their results improve."
Selecting and Managing Inventory
Karyn Grossman, MD, of Grossman Dermatology in Santa Monica, California, limits merchandise sold at her practice to a few, proven product lines. "Patients are often confused by too many options, so I have a pared-down selection," she says. "I pick products that are aesthetically pleasing, have good active ingredients, are efficacious and are easy to use."
Before placing a new product on her retail shelves, Dr. Grossman first investigates the ingredients, tries the product on herself and asks staff members to try it. "Only carry products that you believe in, because if there is a problem the patient will complain to you," she says.
When stocking a new product, Dr. Lin—who also offers his own line of Dr. Lin Skincare products—considers clinical efficacy, ease of integration, wholesale cost and retail cost. "Clinical efficacy is most important, because I don't want to sell something that doesn't work," he says. "Ease of integration refers to how well the product complements our menu of products and services. Wholesale and retail costs are relevant in determining the product's profitability and velocity of sales."
"Ideally, brand name products should sell at twice your cost," says Cheryl Whitman, CEO of aesthetic consulting firm Beautiful Forever.
To manage inventory, Dr. Grossman puts barcodes on products and uses an electronic inventory system. "This system shows what was purchased and helps us track inventory levels and seasonal variations," she says. One staff member is in charge of managing inventory, and the practice sets its reorder levels based on a three-month supply in order to limit retail purchases to four times annually.
Dr. Lin prefers a cloud-based inventory management system. "Regularly checking inventory is critical," he says. "For me, the three key numbers are the current quantity on hand, minimum inventory quantity and reorder quantity." He tries to keep the minimum inventory quantity at a one-month supply and the reorder quantity at a two-month supply, but he may increase them if product vendors offer promotions.
Displaying and Marketing Merchandise
Don't underestimate the power of a beautiful display, says Diane Locher, director of medical professional sales, Neostrata, Princeton, New Jersey. Keep shelves clean, clutter- and dust-free. "Use before-and-after photos," she advises. "Pictures tell a story, and are much more impactful than brochures and product pictures. Don't over-clutter shelves with signage, and keep displays fresh by updating visuals monthly or seasonally."
Make your retail area bright and inviting, with lots of light to draw attention, suggests Carol Trow. Along with her husband Rob, she owns Dermaconcepts in Mashpee, Massachussets. "Place higher-margin items at eye level, keeping in mind that the average client is 5 feet 5 inches tall. Have at least four deep of each item because no one wants to buy the last, lonely soldier. Consider a space with drinks or snacks to garner attention, or create a small, attractive retail promotional area in each treatment room. Put your name everywhere to bolster your brand."
Monthly and seasonal specials will create an urgency to purchase, says Rob Trow. Also consider coupons or gift cards at a discount (e.g., buy a $50 card and get a $10 card free, or coupons good on the next visit).
Vendor Support
Dr. Grossman expects great support from vendors, including displays, handouts, samples and most importantly staff education. "If your staff doesn't understand a product, they won't be able to explain it to a patient," she says. "We ask vendors to visit for lunches and do refresher courses every few months." Other reasonable expectations you should seek from vendors include limited distribution (i.e., Is this product available online and at what cost? Is it offered at other locations in your region?), a willingness to fund specials (this allows you to pass on savings to clients without hurting the practice's bottom line), a sales incentives program for employees, and free product for staff members to try.
Rob Trow suggests asking vendors if they offer buyback or trade out programs for slow sellers or existing lines you wish to discontinue. Also ask if there is a minimum opening order and/or minimum reorder quantities. When working with vendors on open house events, "Think about what you are trying to achieve and ask your sales rep for ideas on how to structure the event and products offered to achieve those goals," says Trow. "This is more effective than offering a gift basket for a raffle." Vendors should also offer a no-questions-asked money back guarantee on their products.
"Account executives can provide you with a quarterly review of your purchases, identify trends, make recommendations for line extensions and construct sell through and promotional plans to support your practice's objectives as well," Locher says.
Educating Clients
At Dr. Grossman's practice, patients receive a skincare sheet with product recommendations. "We try to incorporate products that the patient currently uses, so she doesn't have to throw them out and waste money," she says. "But we also try to introduce her to new products that she hopefully will love and continue to purchase.
"Samples are helpful for tentative patients," continues Dr. Grossman, who believes it's important to let patients touch, see and smell products. "Someone should be available to help provide information about each product and to guide choices," she says. "Have tissues, wastebaskets and hand sanitizer nearby to improve the sampling experience."
Dr. Lin suggests tying homecare products in with professional treatments by creating product sets and then bundling them in with the cost of the procedure or treatment regimen. "This helps clients realize that products are an important part of the postprocedure protocol," he says.
"It is rare for a product to sell itself off the shelf," Dr. Lin adds. "Having a provider or receptionist recommend products is the most effective way to move them."
Rob Trow encourages providers to name the products used during treatment. "Explain why you have chosen them and mention to the patient that she will have a chance to continue using them at home," he says. "To encourage home use, have an attractive basket containing the skincare products used during treatment at the checkout desk with a note stating that they were 'recommended by your esthetician or physician to enhance your results.'"
Sometimes the most effective retail strategy is the simplest and most obvious: Offer great customer service. "Ask if it is OK to recommend at-home products—this creates a more receptive client," says Rob Trow. "Call the day as well as one week after a treatment to see how your client is doing and ask if she has any questions. If a client's favorite product is out of stock, offer to drop ship it to her home so she doesn't have to come back to the office later."
A Team Effort
To fully realize the benefits of retail, employees must understand that retail selling is one of their responsibilities. "Most of your team did not choose their careers with selling in mind," Rob Trow says. "Many are even adverse to it. Set clear job expectations during the hiring process and build in staff financial rewards."
Anyone who has contact and develops a relationship with a patient can promote a sale. "Sales are about relationships," says Dr. Lin. "The closer the relationship you have with a patient, the easier sales will be."
Karen Appold is is a freelance writer based in Pennsylvania.
Image copyright Getty Images