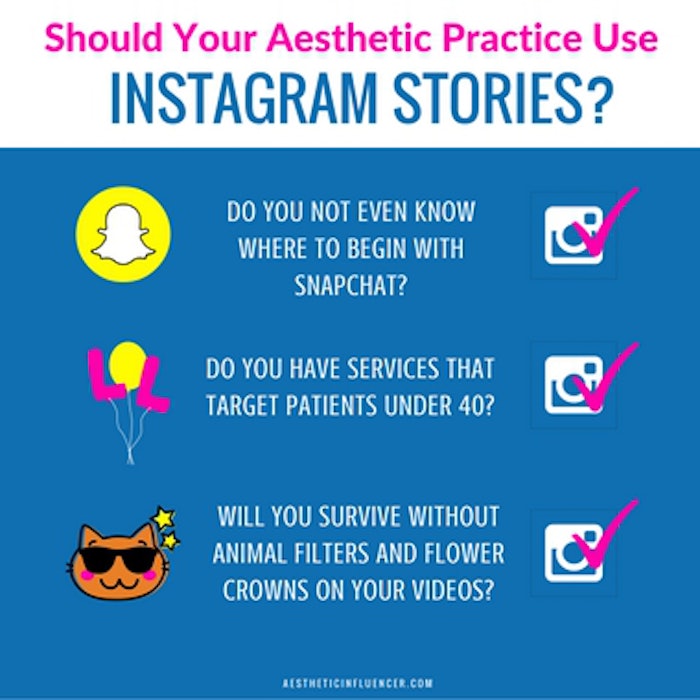 By Jasmine Hill, MBA at Aesthetic Influencer
Instagram launched their Snapchat-like feature, Instagram Stories this week. The feature lets you share a series of photos or videos (up to 10 seconds) to your followers that will disappear from view in 24 hours. Some aesthetic offices have already adapted to Snapchat, and the platform has given rise to several plastic surgeons and cosmetic dermatologists becoming celebrities by dominating the Snapchat platform and solidifying their place as Aesthetic Influencers. Many of you know who 'Dr. Miami' is by now even if you don't Snap! Yet most physicians and aesthetic offices, haven't embraced or have been slow to make continuous behind-the-scenes content for Snapchat because let's face it, there are only so many hours in a day.


When speaking to offices about whether they should be on Snapchat—and why or why not they are not—one of the biggest challenges we often hear is that it is hard to find people to follow and difficult to browse content like on Instagram, so building an audience there has been tough. Even larger brands and influencers who have been on Instagram for years have had trouble converting those followers to Snapchat. With the introduction of Instagram Stories, you don't need to build a new audience on a new platform and can instead continue to focus on one platform.


We always counsel that unless you have the team to be able to focus on multiple platforms and produce great content for them, it is better to focus on creating great content for fewer platforms. Many people we spoke with over the past two days with a decent following on Snapchat were surprised to see how much better the reach and engagement on their Instagram Stories were on the first day even though they had spent months growing their Snapchat audience.


Will Instagram Stories Catch On With Your Audience? We aren't sure yet of how successful Instagram Stories will be because you still can't face swap on it or make cute puppy faces, which was half of the appeal of Snapchat. For now it is pretty basic and all you can do on Instagram Stories is write doodles on your photos and shoot video. But we think the adult audience on Instagram will make Instagram Stories a valuable platform for aesthetic practices.
It offers an easy, cost effective way to market millennial services such as laser hair removal and lip fillers. The format of Instagram Stories allows you to also engage your more mature clientele by creating videos or image series that illustrate what to expect when coming in for your first filler appointment or providing an overview of CoolSculpting versus SculpSure.


Should You Give Up On Your Snapchat Account? If you are an aesthetic physician or office that has already found success using Snapchat, or if you are currently trying to attract a younger patient range for services such as lip fillers, breast augmentation or buttock augmentations, then we recommend that you continue to spend effort on Snapchat as it is an excellent way to reach this target base. For the rest of you who have not crossed over into Snapchat at all or have done so with minimal success, we recommend investing your time in growing your Instagram audience. Content that fits the Snapchat format can now be posted through Instagram Stories instead. Content that we find is the best fit for Snapchat and Instagram Stories includes introducing a new procedure, announcing an upcoming beauty night or special event, or online, pop up events that allows you to answer some common questions you get from patients.


A Strategy To Grow Your Aesthetic Brand Using Instagram Stories. Creating and building audiences is hard work, but there are few tools as valuable as social media in helping you differentiate yourself from the next doctor or office and grow into a true brand. Instagram Stories will give most aesthetic practices a way to add a more personal touch to their standard posts, which may sometimes feel stiff. We predict it will become a great way to show your audience that there are real people behind the scenes, something that could potentially help you build stronger relationships with your current followers while also attracting new patients to your practice. Slowly, more and more aesthetic professionals are recognizing the power of Instagram for marketing their business. If you haven't already, maybe it is time to get serious about putting together a true Instagram strategy because the platform is continuously creating more tools and apps to help optimize your posts and increase your digital exposure.


Jasmine Hill, MBA serves as a co-founder of Aesthetic Influencer, a Los Angeles based organization assisting medical practices with developing their brand voice and digital strategies. She can be reached at [email protected]. You may also follow @AestheticInfluencer on Instagram for more tips on digital tools like Instagram and Facebook for your aesthetic business.