The changing needs of post-Covid patients, particularly younger generations, has led to a boom in digital tech innovation designed to provide remote options for managing aesthetic practices, retail sales, communication with clients, consultations and more. In a recent MedEsthetics survey, nearly 80% of readers were interested in learning more about digital tech innovations in aesthetics. Utilizing digital tech in your aesthetic practice is vital to its success in retaining current patients and attracting new ones, streamlining practice management, providing convenient patient communication options and an optimized web presence to increase your visibility online.
The Digital Key to Unlocking Potential Clients' Trust
In today's digital world, the primary lead sources for growth, referrals and the internet, have become blended together, with both being necessary to maximize your practice's potential for success. Nurturing your referral sources and incoming referrals is one of the most important things you can do to build your practice and should be your priority when growing your practice and reputation. However, once a potential client is referred to you, the very next thing they will do before reaching out to schedule a consultation is check out your website and online presence to judge whether they should place their trust in you and your practice. The initial referral planted the seed of trust, but your digital presence is then needed to help that seed of trust grow and draw potential clients into your office.
These two sides of marketing your business can be thought of as the metaphorical key and locked door at the entrance of your practice's physical office. Referrals are the key, but your digital presence functions as the door that key unlocks. You need the key to open the door, but you also need that door the key is designed to unlock. Those two components are intertwined and need each other to function properly. The key to maximizing your potential for growth is formulating a cohesive strategy designed to make these two lead sources work together and complement their marketing strengths.
The Art of Digital Marketing
Just as there is an art to aesthetic procedures, there is also an art to digital marketing. As the practitioner, it is your responsibility and prerogative to nurture referrals, as you are the expert in the art of aesthetics. Drawing upon the expertise of those skilled in the art of digital marketing can help you ensure you're building a solid foundation for your digital presence to complement and strengthen your practice's reputation and referral opportunities.
Our recent webcast, featuring MyAdvice practice growth consultant, Michael Olsen, discusses the art of building the digital side of your business from the ground up. Appropriately, Michael walks you step by step through MyAdvice's Pyramid of Success, starting with the most important aspects of your digital presence to begin building to ensure it has a solid foundation that will support each following level or aspect of your digital marketing strategy. Drawing from patient insights collected in a recent survey of 450 people on how they utilize digital marketing and the Internet to find their healthcare and aesthetic providers, Michael Olsen divulges what truly gains people's interest when reviewing a practitioner's online presence and leads them to take that next step in choosing to trust you and your practice with their aesthetic needs.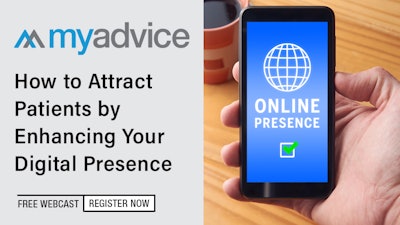 Join Michael Olsen for a chance to discover how you can use the power of digital tech and the patient insights uncovered by MyAdvice's survey data to boost your practice's leads and revenue!
How to Attract Patients by Enhancing Your Digital Presence