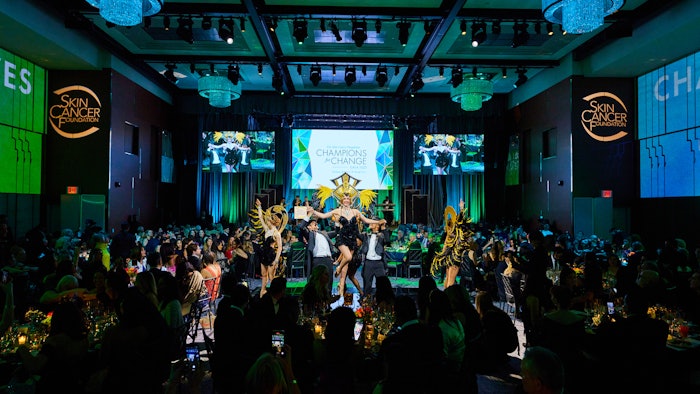 Photo courtesy of The Skin Cancer Foundation
The Skin Cancer Foundation held its signature fundraising event, the annual Champions for Change Gala, at the Ziegfeld Ballroom in New York City on May 10, 2023. The event raised more than $725,000 to support the organization's educational campaigns, community programs and research initiatives. 
More than 400 guests attended the event including Skin Cancer Foundation donors, industry and physician allies, celebrity supporters and members of the media. Notable guests included Brendan Fraser, Hank Azaria, Cooper Hoffman and Veronica Webb.
Comedian Wali Collins emceed the event, keeping spirits high as he introduced the night's speakers. Skin Cancer Foundation President, Deborah S. Sarnoff, MD, spoke about the value of bringing the Foundation's supporters together and recognizing their contributions to a lifesaving cause.
Related: Spotting Skin Cancer
"This is our second Gala during Skin Cancer Awareness Month, a time to highlight the urgency of The Skin Cancer Foundation's mission," said Dr. Sarnoff. "It's important to me that each and every one of you feel connected to tonight's program and this celebration of The Skin Cancer Foundation's work."
New York auctioneer, Harry Santa-Olalla, led the crowd in a Fund the Mission pledge drive. During the in-room pledge drive, donors raised $92,000 to support the Foundation.
The Foundation awarded its first Media Impact Award to Jane Brody, former personal health columnist for The New York Times. The award, which will be presented annually moving forward, recognizes members of the media who exemplify the Foundation's mission to save and improve lives through skin cancer education. 
The evening culminated with the Champions for Change Award presentation recognizing Tommy Bahama, one of the Foundation's most active corporate partners. Since May 2021, Tommy Bahama's Volunteer Donation-at-Checkout Campaign has raised more than $500,000 in support of The Skin Cancer Foundation's education programs.