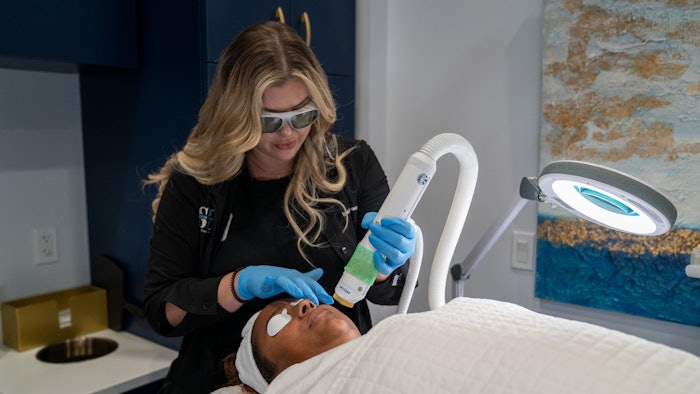 Ashlee Bunkelman, LE and "Lead Laser Boss" for Skin Boss Med Spa in Haslett, MI, has more than 16 years of experience with dermatology, skin of color, aesthetics, and laser. Ashlee has a passion for making her patient's skincare goals a reality. The devices she's chosen have played one of the largest roles in advancing the possibilities for each and every patient. For the past three years at Skin Boss, Ashlee and the Skin Boss team have championed amazing skin for clients of all ages, all skin types, and for both medical and aesthetic skin concerns. She attributes 90% of her efficacy, patient satisfaction, and financial success to her guidance of investing in the right devices. The purchase of Aerolase's Neo Elite and Era Elite lasers are now her foundation of building each patient's journey to incredible skin. They're devices her patients and staff hear each day at Skin Boss. She says they've opened new, modern therapies for aesthetic medicine in her facility. They're allowing her to develop layered therapies, combining lasers, peels, skin care, and other devices for definitive outcomes—ones she has not seen before.
Adding Aerolase lasers to your practice commonly grows your business by attracting new clients, increasing revenue, and achieving a competitive edge. "We are now in our own class because there is nothing else like these lasers on the market," says Ashlee. "They allow us to treat conditions beyond just common aesthetic concerns. Acne, melasma, rosacea, and PIH are all treated incredibly. Plus, they provide a better overall experience for your patients. The microsecond technology in their lasers is specifically designed to address all Fitzpatrick skin types, so I'm never turning a patient away. More importantly, I feel extremely confident each patient will have a safe treatment with great results."
Combination Therapies – A Key to Standing Above the Normal
"In our world, patients are no longer content with simple one-off transactions. Instead, they're looking for customizable, personalized experiences with their providers. How you respond to their needs, and how quickly they respond, will ultimately impact your growth and future success at a time when customers are quick to embrace or abandon a business with just a single interaction," Ashlee explains.
"By evolving your strategies from traditional methods of care to a multidimensional approach to their needs, practices can engage with their existing patients and potential patients in a way that feels human, authentic, and significant."
One of Ashlee's secrets to her success has been her creativity and perfection of combination therapies e.g., stacking several different therapies after laser therapy in a single treatment session.
Starting with just layering the Neo Elite with chemical peels, it then grew into combining microneedling or RF+microneedling, and eventually into adding a fully ablative erbium treatment immediately after the Neo. "The Neo does not overstress the skin due to the high-energy and short pulse duration that is only available with the Neo Elite. Once I knew my patients would achieve their goals quicker and with less visits, I knew this would be something huge," says Ashlee.
"I strive to do combination therapy. I'm doing Neo or Era treatments in combination with other lasers or chemical peels about 85% to 95% of the time. Many patients, especially those in their 30s, are interested in learning more about preventing collagen loss and how to help with skin elasticity," Ashlee says. With our Reverse (Neo non-ablative rejuvenation + Era full ablation) package, we are truly able to help with collagen loss, rosacea, melasma, existing sun damage, and acne scarring."
"In a perfect world, I would love to talk to all my patients about embarking on the Reverse package and following up with consecutive Neo treatments to really help with their skin concerns. I personally don't see why you would need anything else for age prevention and cor-rection than these devices," Ashlee explains.
The difference of innovative laser technology
"I have never honestly seen another laser in my life that has truly been safe for all Fitzpatrick skin types, has the ability to deliver results for all Fitzpatrick skin types, and doesn't cause any side effects," Ashlee highlights.
She goes on to say, "I have worked with so many different lasers in dermatology, plastic surgery, and medical spa settings. If I had been using a traditional YAG, there is no way I would be able to touch some of my client's skin issues. Today, it would be a huge liability for my practice, and I would be very concerned about scarring and other issues. But I don't have any of those problems because I now work with Aerolase devices".
"In the end," she says, "My best advice to take is that not all devices are built the same. The devices you purchase should be more than a collection of features. Above all, devices should be absolutely simple, adaptable, and extraordinary to use. Be comfortable with patient tolerability. Patients have so much buying power at this point of time that if the experience is not up to their standards, you've lost them to someone who delivers it. We know our patients are going to stay with us when we provide the right experiences and attributes over one that doesn't. Consider the potential lifetime value of that patient and what it can do for your business. Your devices play a major role with this."
Disclaimer:
The above paid-for content was produced by and posted on behalf of the Sponsor. Content provided is generated solely by the Sponsor or its affiliates, and it is the Sponsor's responsi­bility for the accuracy, completeness and validity of all information included. MedEsthetics takes steps to ensure that you will not confuse sponsored content with content produced by MedEsthetics and governed by its editorial policy.