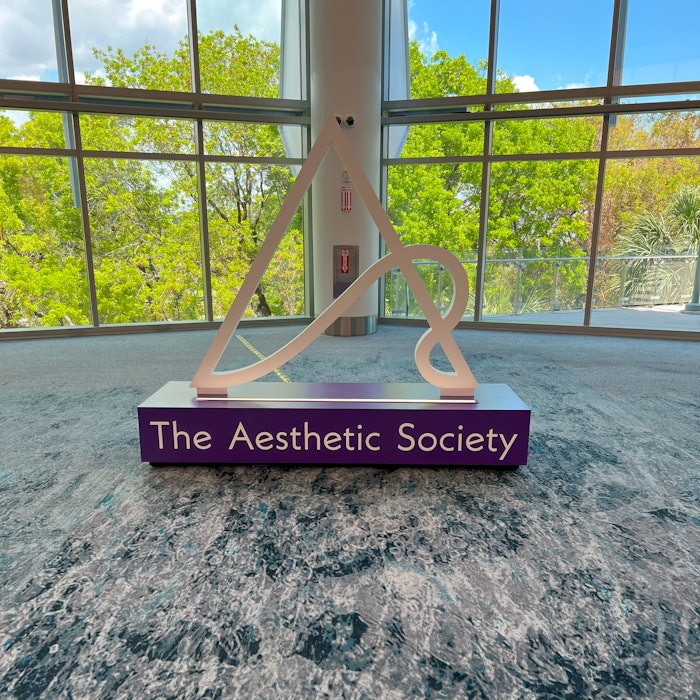 The Aesthetic Meeting 2023 at the Miami Beach Convention Center in Miami, Florida, showcased the latest innovations in professional skin care and aesthetic devices with an extensive amount of educational sessions, training courses and product exhibitions. If you weren't able to make it to Miami for this year's show, here are some of the major highlights that you missed!
Related: 4 Things You Missed at ASLMS 2023
1. Educational Sessions & Training Courses
The annual meeting hosted by The Aesthetic Society is the go-to place for education on aesthetic medicine, from devices and products to procedures. Educational Sessions ran from one to two hours with panelists each showcasing individual presentations on the topic at hand and designated discussants asking questions and making comments. There was also a moderator for every session. 
The general sessions on Friday focused on Breast Augmentation and Brazilian Butt Lifts (BBLs), while Saturday's discussion provided insight on neck rejuvenation, body contouring and lip lifting, and Sunday's sessions highlighted Augmentation Mastopexy, implant removal and the latest in aesthetic injectables, including fat, PRP and stem cells.
While the general education sessions were open to everyone at the event, there were also inclusive training courses for residents, fellows and medical students. The two-hour courses used a didactic teaching method and varied from basic and intermediate to comprehensive levels. Topics included the basics of plastic surgery (for medical students only), aesthetic practice design tips, financing advice and a full breakdown of popular aesthetic procedures, including breast implants, facelifts, body contouring and BBLs.
Discussing BBLs, the panelists feel there are misconceptions about the dangers of the procedure. They also discussed how the name of the procedure isn't totally appropriate and wondered if that also turned patients away from the procedure. According to Daniel Del Vecchio, MD, a plastic surgeon in New York City and one of the panelists for the BBL discussion, deaths from the procedure dropped from 33 to 2 in a year.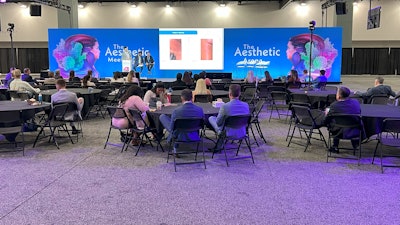 Panelists discussed different techniques for BBLs, fat grating, implants and methods that promote small incisions that are minimally invasive. While a BBL procedure with smaller incisions increases the length of the procedure, it is worth the extra time for the rapid recovery and safety potential.
According to the session, the two main challenges for BBLs currently are overexpanding of the glutes and drastic weight change that causes a deformed look. The panelists expressed some frustration with patients having unrealistic expectations, especially older patients who can have higher degrees of complications.
"The aging buttock is always in the aging patients and that's something that we have to remember," Dr. Del Vecchio said. "It kind of follows a bimodal distribution similar to breast implants, deflation versus pure optimation that you see in a younger crowd. And on top of that, you had cellulite ptosis and two decades of denial. That patient sent me a text saying, 'I want to look like this girl.' She doesn't even look as good as the patient pre-op. So, it's really difficult to deal with some of these older patients."
The panelists discussed how overexpanded and abnormally large butts combined with small legs can present a less desirable result for patients. Panelist Humberto Morelli, MD, emphasized not to exaggerate, opting for smaller and more natural-looking results. 
The United States is one of the only countries that does not use silicone gel implants, instead opting for monobloc hydrogel. The BBL panelists believe silicone implants are the gold standard for the procedure and they hope the United States adopts the practice soon. They projected the future for the procedure to focus on super small incisions, faster procedures and recovery times and better gels.
2. Aesthetic Marketplace & The Aesthetic Arena
The Aesthetic Marketplace was packed with exhibit booths from companies throughout the world of aesthetic medicine and professional skin care. Led by a large central display from Allergan Aesthetics and Skin Medica, the marketplace was packed with products and devices from industry leaders like Merz Aesthetics, Sientra, Hydrafacial, Aerolase, Candela and many more. 
When speaking of the event, Evan Brezak, executive sales director at Alastin Skincare, a company of Galderma Laboratories, emphasized the support from the Aesthetic Society and the chance to reconnect with long-standing industry experts.
"Our products appear so beautifully with every procedure being done here today, making us a one-stop shop for most of the providers here that are coming to see us," Brezak said.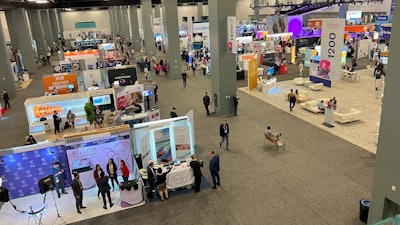 The Aesthetic Arena was located adjacent to the marketplace within the exhibit floor. Along with opening and closing keynote speeches from the Aesthetic Society, the stage featured educational sessions and industry abstract presentations throughout the event. Friday's highlights include demonstrations from PCA skin and Revelle Aesthetics, an evaluation of tissue histopathology from Cytrellis and business tips from MedShark and Perfect Corp. MedShark presented ways to get more Google Maps listings without opening more locations, and Perfect Corp spoke about the rise of AI skin technology in Dermatology and Med Spas.
Sientra kicked off Saturday's presentations with a talk on the safety and efficacy of its round and shaped breast implants. Galderma and Allergan separately presented data from studies on injectable implants and a marketing study on patient satisfaction post-treatments.
3. Demonstrations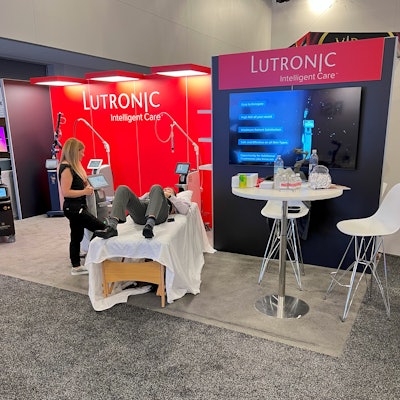 The Aesthetic Meeting featured product and device demonstrations from some of the biggest companies in aesthetic medicine. While I was at the meeting, I was lucky enough to get the opportunity to try out Lutronic Accufit, an aesthetic device intelligently designed to deliver direct muscle activation treatments to engage the core for focused results. I was given a 15-minute demonstration of how the machine works. The device was on display at their booth and I was able to receive the treatment right there at the Aesthetic Marketplace. 
The treatment is a core workout that allows for maximum emphasis on the core without engaging the other muscles. This allows the core to be the only part of the body receiving tension, which provides a focused workout for those trying to refine their abs. With six pads placed across my abdomen, the machine demonstrated a handful of different workouts that clients can experience during their standard 30-minute sessions. The treatment mimicked crunches, medicine ball exercises and more core-focused activities.
The machine really works and my results were clear, even after only 15 minutes. My core felt tight and engaged, and the next day I felt great, like a post-workout feeling without the soreness. Overall, Lutronic Accufit represents an innovative way to focus muscle work in the abdomen for legitimate results.
Looking Forward
The Aesthetic Meeting 2023 was a great learning and networking experience filled with education, product demonstrations and aesthetic innovation. The general sessions provided extensive information for industry experts and media alike, the training sessions presented opportunities for doctors to hone and advance their skills, and the aesthetic marketplace represented the latest and greatest in aesthetic medicine, with tons of product displays and device demonstrations to give all of us a taste of the future of medical aesthetics. Next year's event is in Vancouver. We can't wait to see you all there!