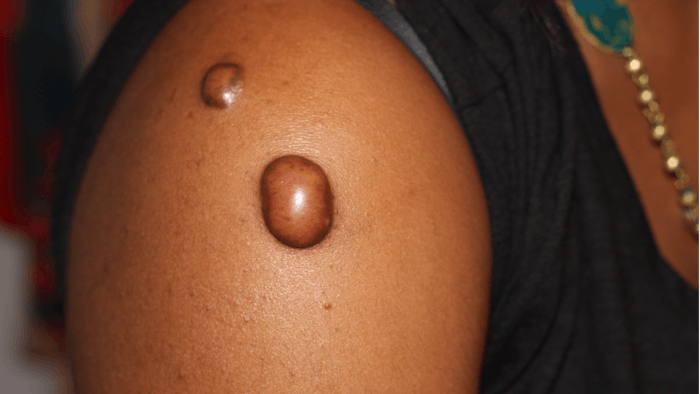 Creative Commons/Michael H. Tirgan, MD
Monthly treatments with a long-pulsed 1,064nm Nd:YAG laser can reduce the pain of keloid scars and also improve the appearance of the scars, according to the results of an Editor's Choice study by Payal M. Patel, MD, et al (Laser in Surgery and Medicine, December 2020).
Based on previous success treating keloids with an Nd:YAG laser in conjunction with 5‐fluorouracil and intralesional corticosteroids, Patel and colleagues launched this study to evaluate the outcomes of a long-pulsed Nd:YAG laser (Lyra, Laserscope) as a standalone treatment. They treated eight patients using two passes, a 10mm spot size, a fluence of 18-19J/cm2 and 60ms pulse duration every three to eight weeks (average 4.5 weeks between sessions).

All patients reported improvement in the symptoms of pain, with an average five‐point reduction using a 10‐point scale. Five out of eight patients had total resolution of their pain. An average of 3.25 treatments were needed for patients to first notice an improvement in the pain. In addition, there was a marked improvement in the appearance of the scars after multiple sessions (4-18). No patients experienced scarring or pigment changes as a result of the treatments.
The authors noted that they chose the larger spot size (10 mm handpiece) to target deeper reticular vessels and nerve fibers, which may be responsible for the pain associated with the keloids, and lower energy fluences to make treatments more comfortable and to reduce the potential of worsening keloid size or associated symptoms.
"Keloids represent a chronic disfiguring dermatosis that adversely affects quality of life, occurring with an increased prevalence in individuals with darker skin types. Since treatment modalities are often painful and yield inconsistent results, we sought to assess the effects of laser therapy on keloid size and associated pain," said Patel.