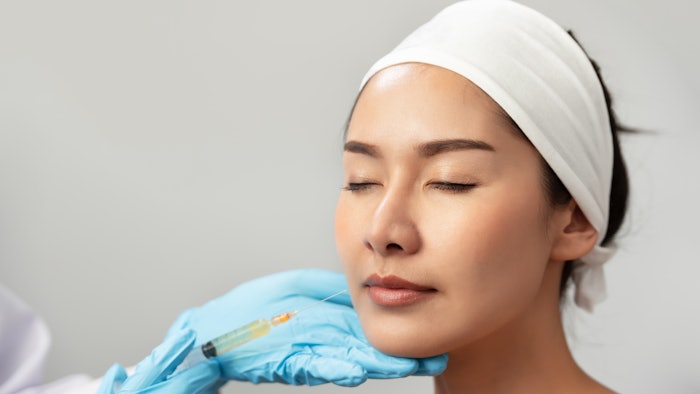 Face & Body with Medesthetics Virtual is taking place on May 23-26, 2021, offering a varety of advanced education and product knowledge sessions for medical aesthetic and skin care specialists. Following are three sessions focused on advancing your skills with botulinum toxins, dermal fillers and combination medical aesthetic and skin care procedures in your practice. 
Related: Advancing Your Esthetic Practice Through Education
Tuesday May 25, 2021 at 2:10 - 3:10 pm: Euphoria Lips: Achieving Optimal Outcomes with Lip Fillers with Miguel Aristizabal, MD: Since ancient times, people have been seeking ways to enhance the appearance of their lips. Today, both female and male patients are coming to medical aesthetic practices to improve lip fullness or definition using hyaluronic acid fillers. Thus, practitioners should be aware of lip anatomy and proper techniques to ensure safe and successful injections. Miguel Angel Aristizabal, MD, Physician, Aesthetic Medicine Specialist, ADEI-Aesthetics & Dermatology Institute, will cover topics including lip anatomy, patient selection, contraindications, patient preparation, technique and after-care. 
Related: Five Ways to Utilize Aesthetic Devices in Your Practice
Tuesday May 25, 2021 at 12:05 - 1:05 pm: High Dose Micro Focused Botulinum Toxin Injections (HDMF)….A Paradigm Shift for Injection Techniques with Botulinum Toxins with John H. Joseph, MD: For more than 30 years botulinum toxin injections have proven to be of great benefit for both aesthetic and therapeutic indications. When initially being developed for those purposes a "Standard" volume of reconstitution evolved which ended up with a concentration that allowed for a safe three-to-four month duration with excellent efficacy. Once this defined volume and concentration was established it remained as essentially the standard treatment of choice for 30 years or more. It became apparent to me this may have been an error and from a simple manipulation of the concentration and volume of injection a much more prolonged duration could be obtained with even greater safety. This was the beginning of HDMF. This session will cover: the history of botulinum toxin injections for aesthetic indications, the discovery of sub-optimal duration of botulinum toxin injections and the means to increasing duration by increasing dose without increasing complication. 
Related: 12 Virtual Sessions to Advance Your Education
Wednesday May 26, 2021 at 12:00 - 12:25 pm: Modern Combinations of Medical Aesthetic Procedures with Danne Montague-King: Join Danne Montague-King, founder of DMK Skincare, as he takes a deeper look into the synergy connecting aesthetic treatments and medical procedures in skin care. Montague-King willl cover how to get the most benefit out of both aesthetic treatments and medical procedures in your practice. 
Register for these classes and many more on the Face & Body website.