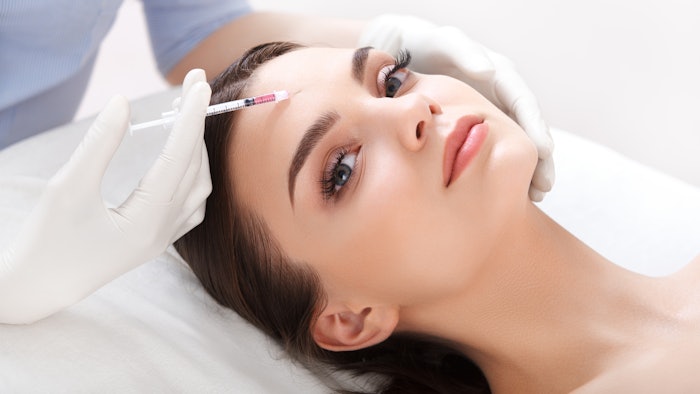 Evolus, Inc. has completed patient enrollment in its clinical study evaluating an "extra-strength" dose for extended duration of Jeuveau (prabotulinumtoxinA-xvfs), its flagship neurotoxin product. The study will be a multicenter, double-blind, randomized trial of 150 patients for up to 12 months at five study sites.
Related: Multilayering Filler Injections to Optimize Midface Rejuvenation
The Extra-Strength Glabellar Line Study includes two active controls: the currently approved 20 units of Jeuveau and 20 units of Botox Cosmetic, which will be compared to 40 units of Jeuveau. In addition to evaluating the safety, efficacy and duration of effect, this study will also help assess the potential clinical tradeoffs for patients when using the longer duration option.
Jeuveau is approved for the temporary improvement in the appearance of moderate to severe vertical lines between the eyebrows seen at maximum frown (glabellar lines) in adults below 65-years-old. The safety and efficacy of Jeuveau was evaluated through the company's Transparency program. The product is approved for sale in the United States under the brand name Jeuveau and in Canada under the brand name Nuceiva, which will launch in Europe beginning in the second half of 2022.
"Completing patient enrollment represents another important milestone for Evolus, and we remain on track to deliver interim results in the first half of 2023," said Rui Avelar, M.D., chief medical officer and head of research and development, Evolus. "This study will help us to evaluate the safety, efficacy and duration of effect of this increased dose. We believe that the precise nature of Jeuveau makes it especially well-suited for the treatment of glabellar lines at a higher dose, as local and distant spread of neurotoxins remains a key area of importance."
 David Moatazedi, president and CEO, Evolus, said, "While our customers believe the original 20-unit dose will continue to comprise the majority of use, they are interested in an extra-strength dosing option of Jeuveau to further customize treatments and meet the diverse needs of a broader patient population. Evolus is uniquely positioned to capitalize on this opportunity because of our aesthetics-only business model and the precision of our product."