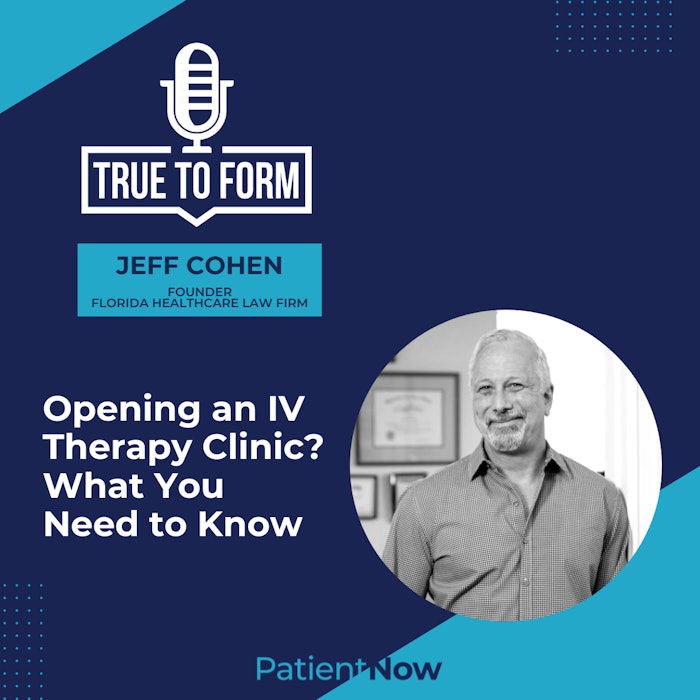 The True to Form Podcast recently featured an interview with Jeff Cohen, Esq., practicing healthcare attorney and founder of the Florida Healthcare Law Firm, on "Opening an IV Therapy Clinic." The interview centered on the emergence of IV Therapy in the area of elective medicine.
Related: Demand Skyrockets for IV Hydration Therapy Business Academy

Cohen discusses what inspired him to start the American IV Association (AIVA), going into the crucial need he saw for proper business education and regulatory compliance. He covers the nuances of healthcare marketing, scope of practice, and regulatory issues around IV therapy, in addition to the latest topics and issues affecting providers wanting to expand into IV hydration therapy treatments.
During the podcast, Cohen dives in the AIVA's exciting launch of their regional IV Hydration Therapy Business Academy Boot Camps, the first of which was held in August with great success. The AIVA is dedicated to providing essential information and resources to help IV therapy providers and business owners nationwide improve their practices, develop effective compliance and manage the risks associated with this emerging treatment in the world of elective and cosmetic medicine.