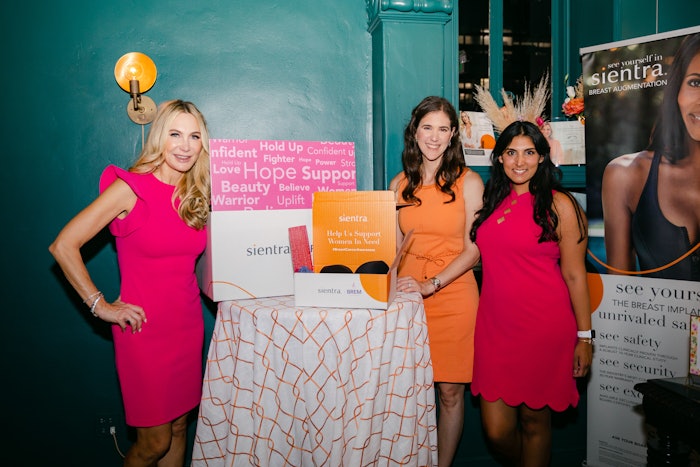 Photo courtesy of Sientra
Sientra Supports Breast Cancer Awareness Month
Sientra launched several initiative in honor of Breast Cancer Awareness Month. As part of their long standing commitment to this cause, Sientra has partnered with actress and breast cancer survivor, Miranda McKeon, and collaborated with the Brem Foundation to launch "Sientra Supports." 
McKeon was diagnosed with stage three breast cancer in June of 2021. She decided to partner with Sientra to help raise awareness around the importance of education and research when making tough personal choices about breast cancer treatment and reconstruction options. 
The breast cancer survivor now uses her platform to share her breast cancer journey and share the research she did to find her board-certified plastic surgeon and the Sientra implants used for her reconstruction. 
Related: Advanced Dermatology Provides Free Skin Cancer Screenings for Breast Cancer Awareness Month
"I want women to know they have choices when it comes to reconstruction," said McKeon. "When I finally chose my surgeon, I appreciated that she spent a lot of time explaining why Sientra was her implant of choice. Sientra has an unrivaled safety profile and the most comprehensive and longest warranty of any breast implant manufacturer in the U.S. This is extremely important to me - I'm young and I've got a long life to live."
Sientra Education Initiatives
In addition, Sientra has also partnered with the Brem Foundation, a non-profit organization that seeks to maximize women's chances of finding early, curable breast cancer through education, access and advocacy, to launch Sientra Supports.
Related: Restored Breast Reconstruction Book Launches in Support of AiRS Foundation
This nationwide program will support Brem Foundation's Re-Bra program by providing women who have undergone breast augmentation or breast reconstruction the opportunity to donate gently used pre-surgery bras to low-income women in need.  
Sientra Supports donation boxes will be available in board-certified plastic surgeon's offices across the country, encouraging the donation of gently used bras.
Sientra employees will come together in a corporate give-back day to tag the donated bras with educational information about early breast cancer detection and materials from "Reshaping Lives: Full Circle" on how to receive reconstructive care from board-certified volunteer plastic surgeons across the country if the need arises.