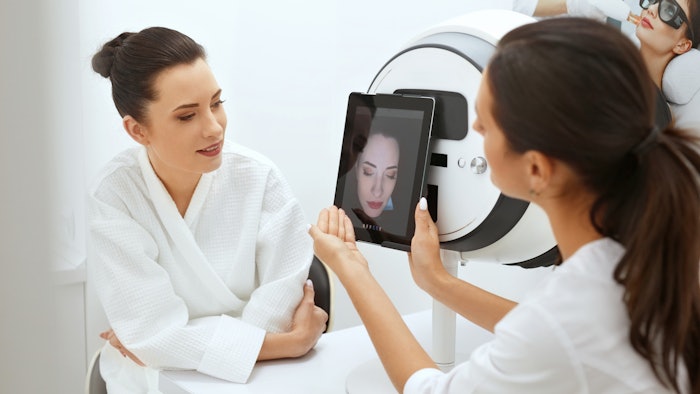 Galderma has launched an aesthetic visualization tool powered by augmented reality (AR) called Face by Galderma that allows aesthetic professionals and patients to visualize injectable treatment results at the planning stage before treatment begins. This solution gives patients a simulated real-time before and after visual of what may be possible from an individualized treatment plan and may help alleviate patient concerns about injectable results.
Related: Galderma Celebrates 10 Years with Children's Skin Disease Foundation & Camp Wonder
Erick Brenner, vice president & general manager of U.S. Aesthetics Galderma, said, "We created Face by Galderma as part of our commitment to supporting aesthetic professionals and patients on their aesthetic journey. With the real-time, simulated injectable results feature, patients can see how injectable treatments such as Restylane and Sculptra might enhance or restore facial features before ever undergoing treatment. We believe that by delivering a holistic approach to individualized care, we can empower patients to move ahead with their treatment plan with added confidence."
Face by Galderma allows for an immersive, fully interactive consultation process between the aesthetic practitioner and patient. The aesthetic practitioner can use the tool to evaluate the patient's face, skin quality, facial shape, facial proportion and contour, facial symmetry and animated and emotional expressions. The aesthetic professional can then identify and tailor an individualized treatment plan to respond to the patient's needs and aesthetic goals.
Face by Galderma uses augmented reality to simulate a patient's potential injectable results using products from the company's aesthetic portfolio. The tool also acts as a patient passport, allowing patients to access and view their individual patient profiles from home.
"Face by Galderma has been instrumental in empowering my patients to feel confident about their treatment as they can see in real-time the effect of injectables. Patients came into my practice genuinely excited to analyze their faces, and it often motivated them to try new aesthetic treatments since they had a better understanding of how their results could look." Gail Mautner, paid Galderma consultant and board-certified dermatologist, Associates in Dermatology Millburn Laser Center.