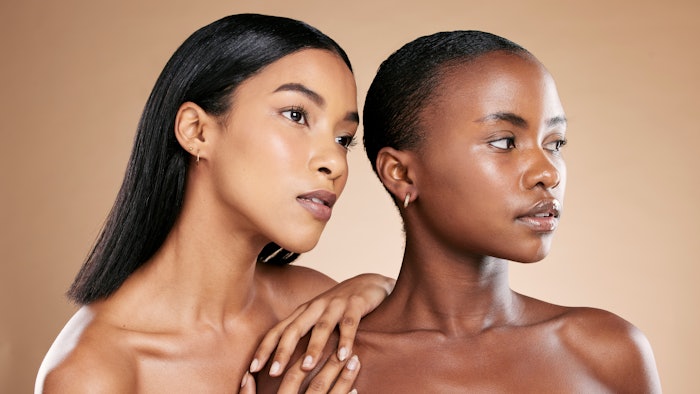 The Skin of Color Society (SOCS) is approaching its 20th anniversary, reflecting the growth and success the organization has found since its conception in 2004 by dermatology leader Susan C. Taylor, M.D., F.A.A.D., S.O.C.S.
To commemorate the anniversary, the SOCS has highlighted some of its current accomplishments and future ambitions, including several signature programs and initiatives that help bring greater diversity to dermatology, reduce healthcare disparities, advance research, expand training and offer mentorship opportunities for dermatologists.
Related: 6 Advanced Education Classes That Help Diversify Your Spa Business
Educational Resources
SOCS released a wide-ranging series of educational videos generated through its recent 6th Annual SOCS Media Day, including the "MelanatED" series of eight short-form educational videos and ten SOCS Identity Videos. Some key topics discussed include cultural competency, hair loss, inflammatory diseases and sunscreen on the skin of color.
In June 2022, SOCS presented the Inaugural Summit, Meeting the Challenge: Diversity in Dermatology Clinical Trials. The gathering brought together key stakeholders across numerous disciplines and sectors, including its first-ever collaboration with the National Medical Association Dermatology Section, offering a Diversity in Clinical Trials Mentorship Program to tomorrow's researchers.
SOCS presented a Scientific Session at WCD in Singapore on July 3, 2023, for the first time in the Society's history. The program included presentations by leading dermatologic experts from Australia, India, South Africa and the United States, on a variety of dermatologic conditions and issues affecting skin of color patients, including facial pigmentation, lichen planopilaris, cutaneous tuberculosis, inflammatory disorders and cultural beauty around the world.
SOCS' Scientific Symposium showcases the latest skin of color dermatology research and insights from emerging and highly respected experts and researchers from around the world. This year's Symposium in March featured esteemed experts, researchers and future dermatology leaders who shared their insights through invited speaker presentations, moderated panels, oral abstracts and iPosters.
Fellowship and Award Programs
Several yearly SOCS awards were presented at this year's SOCS Scientific Symposium, held in conjunction with the American Academy of Dermatology's Annual Meeting.
The SOCS Dermatology Research Award provides grants to assist early-career dermatologists and scientists in furthering their academic careers and promoting the development of innovative ideas in clinical and translational research. 2023 Research Awardees include:
Hyejin Leah Chung, M.D., for "Fractional CO2 Laser versus Fractional Radiofrequency Microneedling for Hidradenitis Suppurativa-Related Atrophic Scars: A Randomized Controlled Rater-Blinded Study;"
Jennifer Fernandez, M.D., R.D., for "Teledermatology in Kenya: An Assessment of Provider Preferences;"
Nazgol Sadat Haddadi, M.D., M.P.H. for "The role of Type I IFNs on Keratinocyte's response to Ultraviolet Light B in Photosensitive Skin Diseases;"
Courtney Johnson, M.D., Ph.D., for Single Cell Transcriptomic View of Cancer-Associated Fibroblasts in Early-Stage Mycosis Fungoides;
Tasneem Mohammad, M.D., for "Exploring the clinical, spectroscopic, histologic, and immunohistochemical features of post-inflammatory hyperpigmentation using disease-specific validated in-vivo models with comparison to ultraviolet b-induced skin pigmentation."
SOCS Career Development Awards provide grants to investigators to fund basic, translational, or clinical research related to inflammatory disorders in skin of color. 2023 Awardees include:
Crystal Aguh, M.D., for "Establishing A Transcriptomic Model for CCCA Diagnosis and Severity;"
Carmelo Carmona-Rivera, Ph.D., for "Dysregulation of NETs modulates inflammation, autoimmune features and end-organ damage in Hidradenitis suppurativa;"
Candrice Heath, MD, for "Elucidating Scarring Alopecia to Extend Follicular Life in Black children and adolescents (ESCAPE Study)."
The SOCS Early Career Innovations Award provides grants to support new ideas that have the potential to positively disrupt the practice of dermatology and dermatologic care. The 2023 recipients include:
Favour A. Akinjiyan, BSc, M.D., for "Using Artificial Intelligence and Short Wave Infrared Imaging to Predict Acne"
Vartan Pahalyants, M.D., M.B.A., for "DermDiscovery: Leveraging Technology and Augmented Reality to Increase Diversity in Dermatology"
The SOCS Observership Program provides grants to medical students, dermatology residents and junior faculty to enable an in-person rotation with a SOCS mentor, allowing them to acquire additional academic or research skills that will further their careers as leaders in dermatology. Eleven SOCS Observership Grants were awarded in 2023. The SOCS Mentorship Program also pairs future medical professionals with SOCS mentors for one-on-one and group mentoring sessions. There were 40 participants in the program in 2023, and applications for the 2024-2025 program will open in August 2023.
The SOCS Foundation Institutional Research Fellowship (IRF) Program supports critical research into dermatologic diseases in skin of color and provides valuable opportunities for physicians of color who are disproportionately underrepresented in dermatology and medicine. 
Andrew F. Alexis, M.D., M.P.H., F.A.A.D, president of SOCS, said, "As we reach our 20th anniversary, we are indebted to many skin of color dermatology pioneers, whose contributions led to tremendous advances in the field. As we face a very promising future, we are thankful for and strengthened by many SOCS leaders, members, supporters and collaborators who are helping us continue our work toward achieving true diversity, equity and inclusion in dermatology."